| | |
| --- | --- |
| | The Words of the Mas Family |
Eagle Scouts Honored at Church Boy Scout Troop
Jacob Mas
May 29, 2008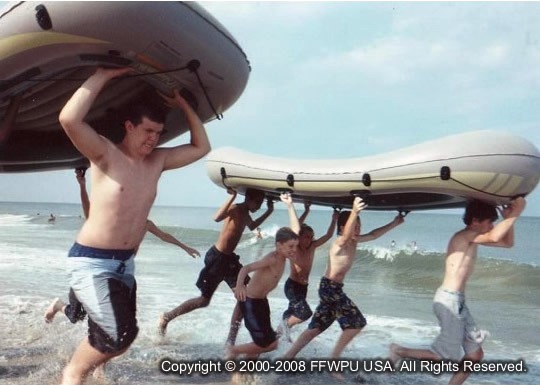 Our own Church Boy Scout Troop 1212 at New Hope Academy in Maryland is pleased to announce the names of 7 young men attaining the rank of Eagle Scout. Their achievement comes on their foundation of 6-7 years of hard work, training and outdoor adventure. Reaching the coveted rank of Eagle Scout figures as a signal accomplishment in any young man's life.
Honored as Eagle Scouts
Richard Abendroth: son of Diane and Bob Abendroth
Paul Duggan: son of Tomiko and Denny Duggan
Zach Musiol: son of Robin and Ron Musiol
Danny Baer: son of Muriel and Lawrence Baer
Joe Chaintiny: son of Lisa and Matt Chaintiny
Sung Hyo Clark: son of Fumie and John Clark
Amael Rodrigues: son of Manuela and Amadeu Rodrigues
These outstanding young men gained years of experience and victories in backpacking, canoeing, community service, winter camping, life saving training, wilderness survival, citizenship, leadership skills and a host of accomplishments.
Above all, they have gained a measure of confidence, poise and seasoning as tomorrow's leaders.
Their Eagle Court of Honor will be at New Hope Academy, Wednesday, May 28, 2008, at 7pm. Public invited. (Reception with refreshments at 6:30 pm). Please congratulate them when you see them.
Contacts: Bob Abendroth, Troop Chairman
Paul Bulow, Assistant Scoutmaster
Jim Boothby, Scoutmaster