| | |
| --- | --- |
| | The Words of the Marsh Family |
GPF Focus Session: Conflict and the Achievement of the Millennium Development Goals by 2015
Robin Marsh
December 8, 2008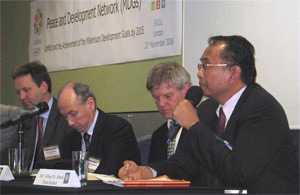 The Peace and Development Focus Session of the Global Peace Festival in London featured the problems of nations struggling to fulfill millennium development goals by 2015 while struggling with debt, conflict and unfair trade relationships. This followed the Rt. Hon. Bill Rammell MP, Foreign and Commonwealth Office Minister of State's encouraging words to the International Leadership Conference of the Global Peace Festival to create an international coalition of all sectors of society to achieve the Millennium Development Goals, lasting peace and prosperity.
Nick Dearden, President of the Jubilee Debt campaign, said that there were great inequities in the trading system that were caused by the strength of the developed nations in relation to the developing nations. He identified the cause of the great debt in the third world and proposed that these debts should be considered by a court of arbitration rather than the third world nations going to their creditors cap in hand. He explained the phenomenon of illegitimate debts incurred by nations run by corrupt rulers who amass great wealth while exploiting their people who are later required to pay back the illegitimate debts. He sought support from among the international delegates for this campaign point to his website www.jubileedebtcampaign.org.uk
H.E. Ambassador Makarin Wibisono, Chair of ECOSOC 2000 and the 61st Session Human Rights Council, developed this theme in relation to the inequities of the trading system. He stated that the Doha round of trade talks was a good opportunity to bring a fairer and effective trading system.
Other contributions were made by the founding President of the Seychelles, Sir James Mancham, who explained that the debt of the Seychelles was equivalent to £10,000 per person and was crippling the nation. The island nation had been forced to go to the International Monetary Fund. Laurent Ladouce of The African Dream, looked at the sufficiency of the MDGs to assess development. He spoke of the sense of ownership that needs to be cultivated in the fulfillment of MDGs. Stephen Clarke promoted Thare Machi Education and explained the work to an audience that included a large number of the nations in which it is involved in assisting. There was a 40 minute session of questions and answers with wide ranging topics focusing finally on how those present could support the Jubilee Debt Campaign, Thare Machi Education and others to achieve their goals.