| | | | |
| --- | --- | --- | --- |
| | The Words of the Lykes Family | | |

Seung Hwa Ceremony For Laura Lykes to be on Wed. May 3rd at 9am
Michael Jenkins
April 28, 2006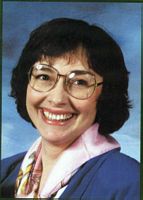 The Seung Hwa Ceremony for our beloved sister Laura Lykes will take place at the Peace King Center, 1610 Columbia Road, NW, on Wednesday, May 3, at 9:00 AM. This is a national-level Seung Wha to honor the great accomplishments of the entire Lykes family. Our national leadership will be in attendance to help us send our sister off to her new mission in the spirit world.
The Won Jeon Ceremony will take place at Fort Lincoln Cemetery at approximately 12:00 Noon. A reception for all family and friends will take place at the home of Gary and Wanji Rowe in Lanham, MD, at approximately 1:30 PM; 9331 Copernicus Dr Lanham, MD 20706. Parking for the main ceremony will be available in the Masonic Temple lot behind the church.
Please do all you can to attend and support this family.
---
Dear Brothers and Sisters,
Our beloved Sister Laura Lykes passed into the spirit world today. I want to ask all Blessed Central Families to give liberally to support this most historic and faithful family. Lorman is currently working as the National Administrative Director of ACLC under the direction of Rev. Levy Daugherty. All our families are pulling together. Rev. Hong, Rev. Francis and the whole Washington Region are coming together in prayer and support for the Lykes family.
This was an historic Black and White Blessed Couple. They gave all they had faithfully to open the door for others. Laura has been a front- line, sacrificial sister all of her life, as has been Lorman. This is an outstanding family.
We can only think that their sacrificial course is linked to the salvation of America and restoration of all race relations.
Please give to help them at this time of need.
Laura was positive all the way through this trial. She was a truly victorious Blessed wife, sister, and mother.
Please send checks to:
LYKES FAMILY FUND C/
Ms. Anna Mizani
10606 Glenwild Rd.
Silver Spring, MD 20901
Make all checks out to the Lykes Family Fund. Please donate liberally.
With Love,
Rev. Michael Jenkins
National Pastor
Family Church of America


Download entire page and pages related to it in ZIP format


Table of Contents


Information


Tparents Home