| | | | |
| --- | --- | --- | --- |
| | The Words of the Luminario Family | | |

"Exchange of Culture, Exchange of Hearts" International Youth Day 2006 Cultural Night
Maria Bernadethe Luminario
September 3, 2006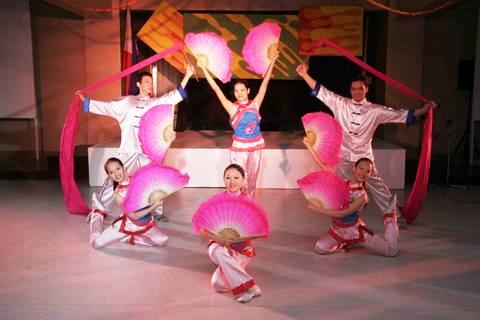 Local youth such as this Chinese ballet group took part in entertaining the delegates.
A gathering of youth from all over the world in a joyous occasion, for many of the participants in the cultural night of the International Youth Day Conference, was only just a dream. But when the dusk of August 11, 2006 came, that dream turned into a concrete reality when an awesome and historic event transpired in the newly established university known as the Universidad de Manila. At the university's Palma Hall, a heart-warming, fun and memorable once in a lifetime experience took place.
Young people from different walks of life around the world gathered to celebrate the seventh International Youth Day through a Cultural Night. Regardless of their race, ethnicity, religion and beliefs, they were all in one place showcasing their talents and rich culture.
More than a two hundred youth from 30 countries were represented: Russia, U.S., Malaysia, Thailand, Latin America, Japan, Netherlands, Poland, Turkey, India, Switzerland, Korea, Bangladesh, Ivory Coast, Kenya to name a few and of course the host country Philippines which had more than one hundred delegates from different student organizations. The delegates from each country presented entertainment numbers showcasing their talents, culture and identity. Everyone was delighted and fascinated by every country's performance. Most of the delegates presented their wealthy culture through dance and music number with matching colorful and elegant national costumes, and native musical instruments and even improvised musical instruments, like water gallons utilized as drum by the delegates from Sun Moon University.
The program run smoothly with every performance applauded and even joined by other foreign delegates with enthusiasm, youthfulness and vigorous spirit. Everyone participated actively and appreciated each presentation genuinely.
Familial atmosphere was felt all over the place. Every individual interacts with one another as if they found their long lost brothers and sisters. Every face has a smile so sweet and warm, every heart was widely open to welcome their brothers and sisters from across the political borders and religious divisions human beings have made. Their eyes have a glow of hope of becoming united to be one family regardless of religion, color, and race under one God, our Creator.
The theme of the conference with which the cultural night was included was "Tackling Poverty Together". And the youth delegates believe that in order to solve poverty, we should work hand and hand, have an exchange of ideas to come up with better and effective solution to combat poverty, move forward to execute the plans, and most importantly we should have an exchange of hearts in order to understand each others' needs, hear unheard cries and listen to unspoken words of longing and helplessness of our brothers and sisters from different parts of the world so that we can come up with ideas which are unselfish and will benefit not only one group or one country but all humanity.
Young students who had the chance to participate in this wonderful event deeply hoped that the passion for unity and excellence had not ended after the program ended like a fairytale. They wished that this event would not go back to being a dream again, but an awakening for all of us from a long and empty sleep of humankind because of greed, envy and self-centeredness.
The program was made possible through the efforts of volunteers from the AIESEC, an international student exchange organization, of De La Salle University and Mr. Little Jones Espeleta, Youth Federation for World Peace Philippines President, Mr Julius Malicdem, World CARP Philippines VP for Second Generation and the sponsorship of Meralco, a major power provider in the Philippines.
By Maria Bernadethe Luminario
(Badethe is a World CARP student member studying Pre-Law at the Lyceum of the Philippines.)

Download entire page and pages related to it in ZIP format

Table of Contents

Information

Tparents Home