| | | | |
| --- | --- | --- | --- |
| | The Words of the Lindstrom Family | | |

Ohio Prayer Luncheon Report
Joel Lindstrom
June 6, 2006
Ohio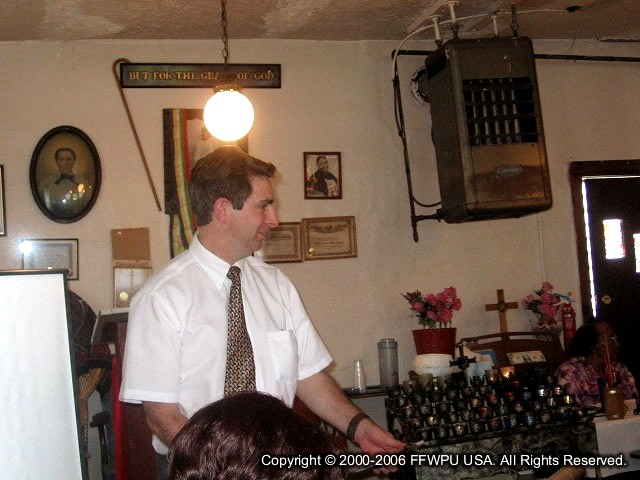 As I arrived for the June Ministers Prayer Luncheon at the Universal Temple of Truth, I was greeted by two stalwarts of our Northern Ohio foundation of ministers, our host minister, Rev. Katie Jackson, and Rev Dorothy Burton. (Rev. Jackson connected to our movement in 1992, when True Mother came to Columbus for the inauguration of WFWP. Yosuke and Martha Tashiro and family gave her the original invitation and continue to attend to her and her faith community.)
I was invited downstairs for lunch and was greeted there by a full basement of powerful ministers preparing themselves for our meeting by filling up on the great cooking that was offered to make this luncheon a success. Rev. Jackson even stayed up all night to cook some of the best chicken I've ever eaten, along with lots of other food that made sure this was a successful luncheon. After lunch all went back upstairs to the sanctuary for the program.
The second generation of our community helped so much by beginning with a song. That led others to offer powerful songs of worship. Gospel numbers and spiritual energy filled the room with the inspired piano playing of Rev. Jackson's sister and niece. Other members of her family and church participated. This, along with the heavenly boogie-woogie gospel of Sister Audrey Pugh, had our spirits moving and many of us dancing.
A call for testimonies led Rev. Lillie North to stand up to explain how she overcame the pronouncement from doctors in the hospital that she had died. This happened 20 years ago and she's still with us. What a great testimony of faith and determination to never give up and overcome difficulties, even death!. She also praised the fathers in the audience as the next week was Father's Day. She also praised the Unificationist families because we brought our families with us and she saw this as a testimony in itself to what we teach.
Rev Robert D Thomas gave his testimony, which was very much like a sermon or Bible study regarding brotherly love. This was a great precursor for Rev. Bruce Biddle's presentation of True Family Values. Using our projector and showing the power point presentations on True Family Values, Bruce moved the hearts and minds of those present. Many asked Bruce to do presentations in their churches in the fellowship following the luncheon.
The Reverend and Mrs. McKenzie's presence added to the service, along with the visitors we had from our state headquarters, Rev Andre Reese, Gloria Laurent representing ACLC, and others. The ministers are so happy to be able to support ACLC by hosting our luncheons and taking ownership of growing this movement in our area. This is the most inspiring development as more and more of them understand True Parents.
Rev Joel Lindstrom


Download entire page and pages related to it in ZIP format


Table of Contents


Information


Tparents Home