| | | | |
| --- | --- | --- | --- |
| | The Words of the Lindstrom Family | | |

Cleveland OH Prayer Breakfast
Joel Lindstrom
August 19, 2006
Cleveland OH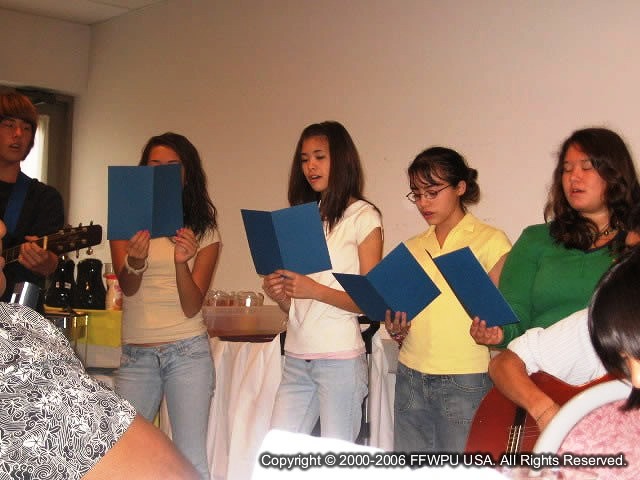 Our August Prayer breakfast was hosted by Mrs. Ethel Pye and led by Rev. Joel Lindstrom in the beautiful chapel of the Fairfax Place Nursing Home. Rev. Lindstrom gave a warm welcome and began with a reading from World Scriptures. After announcements the ACLC Statement of Purpose was read. Songs were offered by the young people and the Japanese sisters.
Mrs. Linda Haibara shared her experience from her family's trip to Japan and Singapore. She was impressed by how clean and peaceful the people of Singapore were even though they practice different religions. Dr. Thelma Johnson spoke of her uplifting experience in the Bahamas ACLA Conference as well as the joy of meeting so many people and sharing Divine Principle during her travels to and from the event.
Rev. Lindstrom gave a True Family Values Power point presentation, "A Vision of God's Plan for Your Life". This served as a fine preparation for our main speaker, Rev. Dorothy Burton. She spoke about "Living as Gods Family", saying it is important to have a pure lineage and the necessity of always taking a personal inventory of ourselves. Rev. Burton works with many suffering families and her tearful sharing helped all in attendance to be more focused and determined to work toward the ideal.
At the end, Mrs. Pye, a world traveler, spoke again on the topic of the beauty of Singapore, encouraging young people to take more responsibility in keeping our neighborhoods clean. It was a powerful moment, hearing these words from an 89 year elder who did so much for Cleveland. Mrs. Pye was the first black police woman in our city and of course she established the wonderful facility where we were meeting that day.
Deacon Edward Walton introduced us to Pastor Igor, a friend who is part of a church group centered on reaching out for Christ, to Russian members of the Jewish and Muslim faiths in the east side of Cleveland as we have a very large Russian community in our area.
It was a small gathering this time, yet all races and age groups were represented. We continued sharing our hearts together long after the program ended.
Thanks go to all who helped make it a beautiful morning.


Download entire page and pages related to it in ZIP format


Table of Contents


Information


Tparents Home