| | | | |
| --- | --- | --- | --- |
| | The Words of the Lim Family | | |

Inauguration for Rev. Do-sun Lim as President of ChungPyung Heaven and Earth Training Center
January 23, 2006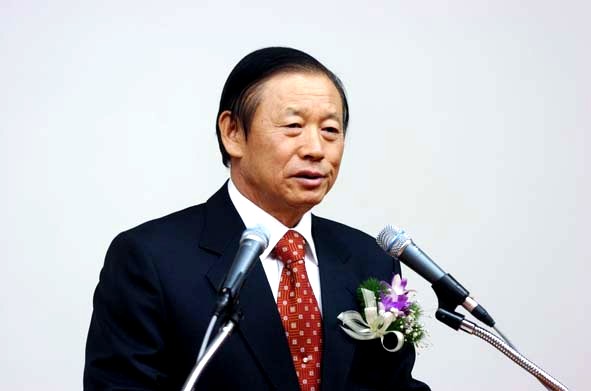 The inauguration took place in the Heavenly Palace of Chung Pyung Heaven and Earth Training Center, attended by distinguished guests and others at 10:30 a.m. on January 23, 2006.
The ceremony was emceed by Rev. Jae-sun Choi, (progress director of bureau)., The ceremony began with a holy song, then a prayer by Rev. Myeong-gwan Lee, director of the Office of Education and Planning, followed by the introduction of distinguished guests. Tae-yeong Kim, a folk musician, sang the congratulatory song. Then there was a bouquet presentation by the representative of staff to the new president of Chung Pyung Heaven and Earth Training Center.
In his inaugural address, President Do-sun Lim (72 blessed couple) said that he had been with True Parents as they offered jeongseong [(conditions of) sincere devotion] at Chung Pyung during the late 1960s and that since this time, it has gone through amazing changes. He added that would give his best to realize True Parents' purpose for calling him to Chung Pyung Holy Ground.
"I believe that True Parents have called me to work at Chung Pyung because, as I have seen and experienced the amazing spiritual deeds of Heung Jin Nim and Dae Mo Nim, I intend to work hard here for the rest of my life. Hence, I am determined to do my very best here from this day forth.
Through the works of Heung Jin Nim and Dae Mo Nim, liquidate the hereditary sins, collective and individual. This is a restored Garden of Eden, where all mankind must go through. I really feel the extraordinary responsibility that comes with the job. Also I will have to guide more and more people along the road of rebirth, resurrection, and eternal life.
With a strong resolution and the belief of making everything possible, I would like to start working in Chung Pyung. For Chung Pyung to be the center of God's providence, I would hope that everyone will support us and contribute to Chung Pyung."
Then Su-ueon Jeong (36 blessed couples) resident gave a speech, hoping that the new president will become as one with Heung Jin Nim, Dae Mon Nim, and Hun Mo Nim, and take his responsibility serious since Chung Pyung will be the center of the new era.
"Soon the Original Palace will be constructed completely, and when True Parents move into the palace, this place should be the center of the providence. I would encourage President Do-sun Lim to become as one with Heung Jin Nim, Dae Mo Nim, and Hun Mo Nim. And take full responsibility of being the center of this new era, and accomplish God's wishes."
Also, adviser Chol-gi Lee of the Race Culture Research Academy that holds peculiar religion to South Korea and holds Chondogyo (the Korean traditional religion), gave a congratulating speech. " There is no doubt that the president will develop Chung Pyung Providence with his brilliant talent."
At last, President Su-ueon Jeong gave a prayer, administrative manager Han-gyun Jeong lead the 3 Mansei, closing the ceremony.


Download entire page and pages related to it in ZIP format


Table of Contents


Copyright Information


Tparents Home