| | |
| --- | --- |
| | The Words of the Lepelletier Family |
Interfaith Harmony Ceremony Held at People's Summit in Rio
Christian Lepelletier
June 22, 2012
UPF -- Brazil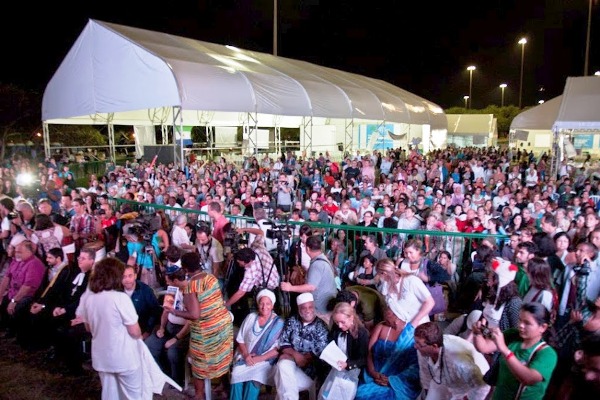 Rio de Janeiro, Brazil -- UPF-Brazil and the Family Federation for World Peace in partnership with Inter-religious Movement of Rio de Janeiro participated at the People's Summit Rio+20 from June 15 to 22. The People's Summit for Social and Environmental Justice was organized by the civil society at the Flamengo Park, alongside the United Nations Conference on Sustainable Development.
The People's Summit gave a space and visibility to religions thanks to an interfaith coalition composed by the ACT Alliance Brazil, the World Council of Churches, the International Cooperation for Development and Solidarity, and the Inter-religious Movement of Rio de Janeiro that was born as a result of the UN Conference on Environment and Development that took place 20 years ago in Rio, in 1992.
Representatives from these organizations met and cooperated under the coordination and support of the Ecumenical Movement of Service to build a schedule of events that was held during the People's Summit.
The events took place simultaneously under six tents and one larger plenary tent. One of the objectives was to share and connect the ecumenical and inter-religious activities with the UN conference.
On the first day (June 15) Christian Lepelletier from UPF and Renato Murad from the Family Federation conducted an Interfaith Tree of Harmony Ceremony symbolizing the commitment of all faiths and traditions to the future of the planet. One by one, representatives of 30 faith traditions poured water representing wisdom and healing onto the roots of a tree symbolizing the entire human family.
After a break, 12 faith leaders shared their contributions, pointing to the universal values about the sacredness of Mother Earth, encouraging each human being to care for all living things of the Creation directing their voice and need for an urgent change of mentality for the leaders of the world who were meeting at the UN conference. The last presentation, by Simao Ferabolli, was about the proposal for an inter-religious council at the UN.