| | |
| --- | --- |
| | The Words of the Lepelletier Family |
Testimony about In Jin Nim visit in Brazil by National Messiah of Brazil
Christian Lepelletier
June 10, 2010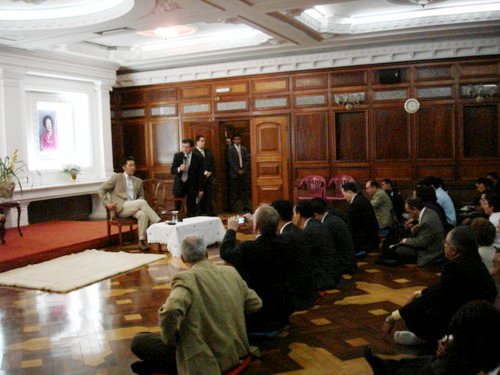 My reflection after In Jin Nim's visit
First of all we are grateful to our True Parents for the privilege to receive In Jin Nim in Brazil, we were really blessed and amazed just one week after the tragic incident we could feel the taste of true love and heavenly atmosphere consoling our hearts.
The week before we saw the behavior of one group violating the order during the Sunday service at the Brazilian headquarters temple. As a result True Father had to proclaim again that he gave his authority to Hyung Jin Nim. And for the first time, the fearful "heretic" word was used to describe those who claimed that they have True Parents authority.
Now it becomes clear that the elder son Hyun Jin Nim is opposing True Parents will and going against God's Providence. This revelation is a shocking breaking news. As In Jin Nim reminded to us on the first day at the Hoon Dok Hae, the number one responsibility of every child born in True Parents family is to honor, be loyal and uphold our eternal True Parents. To keep holy and sacred the name of True Parents.
We are very sorry for this tragic situation; everyone is suffering from Heavenly Father, True Family and all blessed families. Now that we heard all the facts directly from In Jin Nim and her American staff that Hyun Jin Nim as the elder son could not accept True Parents decision to anoint the younger son Hyung Jin Nim with the highest authority as the international president.
As a consequence all those members following or cooperating with Hyun Jin Nim going against True Parents' direction will become also heretics. This is quite a fearful statement to hear in the Unification Church movement, we joined this movement embracing high ideals to build a world of true love, peace and happiness starting from the True Family.
This is exactly what is happening here in Brazil right now among our "brothers" and "sisters" some still believe that Hyun Jin Nim is serving True Parents and it goes beyond their understanding why they should be condemned as heretics…
So we need to pray that the good spirit world illuminate the conscience of our "brothers" and "sisters" who are still blind to this new reality, only True Love power will heal, cure and dissolve the bitter resentments preventing them to accept and follow True Parents directions.
Rev. Christian Lepelletier
National Messiah in Brazil
Sao Paulo, Brazil