| | | | |
| --- | --- | --- | --- |
| | The Words of the Lepelletier Family | | |

First World Spiritual Forum In Brazilia
Christian Lepelletier
December 14, 2006
Brazilia, Brazil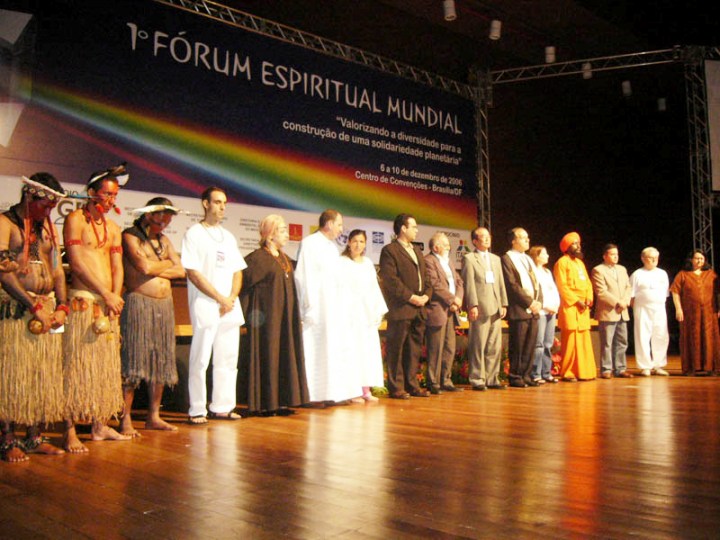 More than 50 organizations worked together to produce the first World Spiritual Forum (WFS) in Brazilia, among them the Universal Peace Federation (UPF) was represented by Christian Lepelletier, UPF General Secretary in Brazil and Iremar Possamai representative in Brazilia.
The FORUM was organized by the Planetary Union (UP), the United Religion Iniciative (URI) and the Peace University (UNIPAZ) and took place from the 6th to 10th of December in the Convention Center of the Brazilian Capital. More than 5000 people came for this historical gathering demonstrating the growing interest about spirituality.
"Valuing diversity towards the construction of planetary solidarity", is the main motto that will produce a world with more justice, according to the organizers, the WSF will complement what is missing in the World Economic and Social Forums.
A Five days Conference, more than eighty speakers and entertainment in the main auditorium, an exhibition hall and six rooms annexes presenting ceremonies, rituals, videos and lectures. Each day started from eight in the morning until ten thirty in the evening, everything was broadcast live for the MAIS TV channel.
Christian Lepelletier spoke about the "Responsibility of the Religions to establish a World of Peace" based on the five Principles of Peace used worldwide by the Peace Ambassadors and the UPF network. Including the proposal for the WSF to consider including a declaration in the "Spiritual Letter of Brazilia", that was produce at the conclusion of the event, to establish the National Inter-religious Council of Brazil.
The idea was well received, but the organizers are very cautious on the religious aspect emphasizing that: "It is not a religious issue but rather an issue concerned with spirituality, humanism, solidarity and brotherhood. It views the solution to the problems that beset humanity not only based on economic, technological, scientific or political advances but rather in the adoption of a new mindset based on new paradigms having solidarity as the foundation of human relations." According to Planetary Union President, Ulisses Riedel.
The high point was the presentation of Leonardo Boff, internationally known for his liberation theology, he taught about the five important virtues for a better world and the debate about the "Dialogue between the religions for World Peace." Many different religious traditions came to the Forum that offered a very great opportunity to promote interfaith harmony. It was a great historical step forward for Brazil and mankind, more and more the world is recognizing that the human effort alone is not sufficient to solve the problems facing mankind; God wants to participate through the spiritual leaders and people of conscience.


Download entire page and pages related to it in ZIP format


Table of Contents


Information


Tparents Home