| | |
| --- | --- |
| | The Words of the Lee Family |
Happy Graduation Day -- Jacob House -- Pioneer school in the field of education for blessed children
Mal Sook Lee and Angelika Selle
July 1983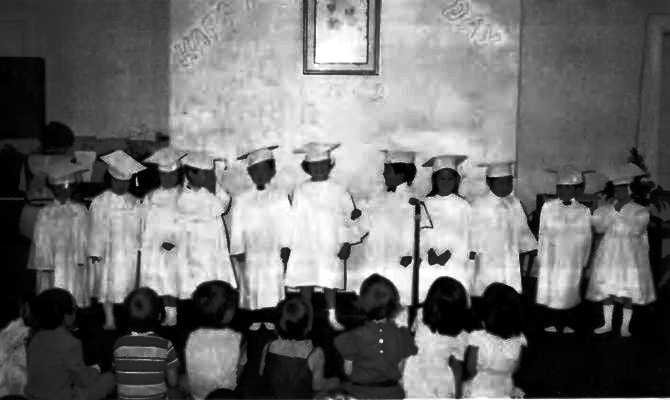 Which preschool or kindergarten in the world awards its young boys and girls with certificates for superior achievement in patience, effort, and enthusiasm? Well, there is one such junior educational institution, hidden behind forest on the outskirts of Tarrytown, New York, and it is called Jacob House. On June 29, 1983, 11 children of various 43, 777, and 1800 blessed couples graduated from preschool to kindergarten.
This was the first graduation since the school was founded by Father on February 23, 1977. A special graduate in the group was Young Jin Nim, the fifth son of our True Parents. Young Jin Nim just had celebrated his fifth birthday two days before. Some fathers and mothers who could afford the time were present to proudly watch their youngsters graduate.
Mrs. Phyllis Kim, as the master of ceremonies, welcomed everyone warmly and asked Mr. Ken Sudo to speak the opening prayer. Then Mrs. Mal Suk Lee the spiritual leader and "mummie" of Jacob House delivered her graduation address in English. Before the "honorable graduates" entered, 10 preschool "suns" presented holy songs in English and Korean. It was a pure joy to see those little adults performing, each of them presenting such a unique character.
"Here we are!" the 11 white-dressed graduates concluded in unison after they had slowly paced onto the stage, accompanied by Beethoven's "Land of Hope and Glory." Each graduate introduced his parents by stating the year of their blessing, daddy's and mummie's mission, and finally added their own name. One could see in their eyes and faces how proud and happy they were to be graduating, to have attained the status of a little adult, who will now move on to a higher level. When performing songs and reciting a poem in English the little ones invested their whole hearts. Kamiye Furuta then gave the farewell speech in seemingly perfect Korean -- repeated in English by Kensho Watanabe -- expressing gratitude to True Father and True Mother for bringing together their parents so the graduates could be born.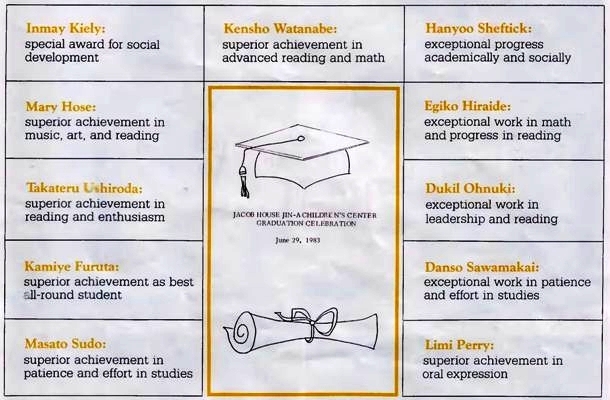 Now the moment had come to receive the well-deserved graduation certificates: Special awards were given to students who did very well in Korean: Kensho Watanabe and Young Jin Nim Moon (special graduate). Graduation gifts were handed out by Mrs. Carl Rapkins. On an occasion like this, of course, a celebration cake could not have been lacking. The three-tier cake was cut and the candles were blown out as the song, Happy Graduation to you was sung. There were happy faces everywhere. Outside in the big garden, a picnic lunch was waiting. Time to relax, eat, play, and to enjoy the day.
For us church members, an event like this makes us think: How will these blessed children develop? Will they be able to persevere in the values they have been taught and live according to them? Will they develop the seeds that were sown into their little hearts so they become strong men and women, leaders of the future? There is certainly much yet to accomplish in creating an environment which can properly nurture them in their later childhood and adolescent years, but there is also much hope because of our True Parents' and God's protection for these children. Jacob House is a pioneer school in the field of education for blessed children. With this graduation, the first fruits now can be seen after seven years of its existence! We are certainly looking forward to more Jin-centers like this in other parts of the country and around the world, and we congratulate our young blessed children as well as the staff from Jacob House, wishing them a very successful, glorious future.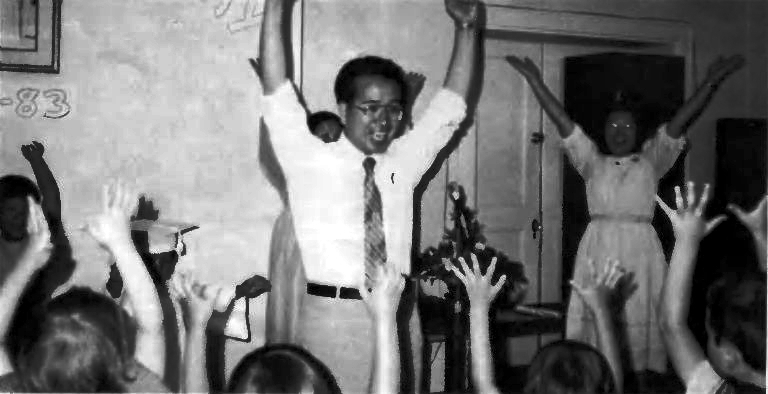 Graduation Address
Mrs. Mal Suk Lee
Today we share this historical moment of our first graduation for the providentially chosen children of our blessed families in the Jin-a Children's Center and Kindergarten. To Heavenly Father and our True Parents, who have protected us, we offer our humble gratitude. We would also like to express our deepest gratitude to all of you parents and family members who have gathered to celebrate this graduation during this busy time.
Most of our graduates' parents were called to follow the path of the providence, so their children were separated from them early in their lives. However, today we can see with deep appreciation and overflowing joy the growth of goodness that abounds in them. For this we would like to offer once again our warmest appreciation to our Heavenly Father and our 'True Parents.
On January 12, 1983 at 10:50 a.m., Father gave us the name Jin-a Children's Center. This name Jin-a implies a day-by-day growth in goodness toward becoming praiseworthy sons and daughters before Heavenly Father. Thus, Jin-a Children's Center means that this is an important educational center for the training of blessed children in the heavenly tradition. In an effort to follow our True Parents' providence we have sincerely tried to fulfill the following directions:
1.) To provide an education to help our children become true children who are completely one with the direction of Heavenly Father's and our True Parents' hearts.
2.) To develop respect for elders, concern and care in relationships with others, and the potential to lead younger brothers and sisters in the direction of goodness.
3.) To develop the ability to clearly distinguish between right and wrong and the perseverance to endure any hardships.
4.) To teach proper habits of goodness in words and actions.
5.) To develop and maintain a healthy, bright, confident appearance and spirit.
To accomplish these goals we have and will continue to offer all our strength and energy. As all of you, our first graduates, enter elementary schools, please become an example to others in your school life by showing your filial piety and love for your parents. Please quickly rise up to bring joy and hope to Heavenly Father and our True Parents. From the bottom of our hearts, we hope that many admirable blessed children will follow this tradition. We ask for the graduates' parents' deepest care and concern in this direction. Finally, we pray that abundant glory, honor, and love will always surround our first graduates' future.
Jacob House
children from 2 1/2 to 3 years (called the "stars")
from 3 to 4 years (called the "moons")
from 4 to 5 years (called the "suns")
Nursery
For babies from three months old. They get round-the-clock care.
Summer schedule
8 a.m. Breakfast
9:00 Morning exercises
9:15 Morning service
9:30-10:30 Meeting in five different groups (like swimming; arts and crafts; Korean; and everyday life, familiarizing students with things like cooking, shopping, going to a gas station, ecology, and nature studies) This program is for the "suns." They can choose their own subject. They have more freedom and more opportunity to think. After reaching the age of 5 or 6, they enroll in a public school kindergarten.