| | |
| --- | --- |
| | The Words of the Lee Family |
Significance of the OSDP workshop in relation to Foundation Day
Byeong Yeol Lee
June 2012
Director of the Central Training Center, Korea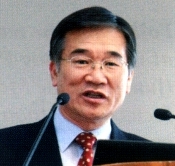 Father held a thirty-day Original Substance of Divine Principle workshop from mid-May to mid-June.
Question: Why did True Parents hold such a large Original Substance of Divine Principle workshop?
True Parents have now become perfected as the God of Day, and they have prepared for God to perform His Holy Wedding at the time of True Parents Holy Wedding, through their physical selves. However, we, the people who are in the position of True Parents' children, are not ready. At the moment when True Parents are given the royal seal as the God of Day, they need to take us with them, but none of us has fulfilled his or her portion of responsibility.
For this reason, True Father recently called all Korean church leaders to Cheon Jeong Gung and said that he had a request to make, because True Parents couldn't take even one person with them to Cheon Il Guk on Foundation Day, as things now stand.
Father told us this beseechingly, beginning with "I am asking this of you. I am asking this of you." He said that for us to prepare to enter Cheon II Guk with True Parents, we need to become "new tribal messiahs" and participate in the Original Substance of Divine Principle workshop five times over thirty days. At the time of God's Holy Wedding performed through True Parents on Foundation Day, if blessed members have made this new beginning as new tribal messiahs, True Parents will be able to take blessed families (in the position of children) with them as they ascend to the position of the God of Day with His royal seal. To prepare us for this, True Parents instructed that the special thirty-day Original Substance of Divine Principle workshop be held at this time.
Of all that True Parents have recently told us, the most important is "Let's live together." That is why they speak of our "return" to the original state before Adam and Eve fell and of living with God and True Parents....
When Father instructed that these OSDP workshops be held, he said two important things: One, to cast off our clothes, which means to rid ourselves of what we've been carrying around like satanic rags -- our fallen nature and the like. Two, to serve God. We need to learn about the original substance of God through the OSDP workshop and rid ourselves of all the wrongdoings we have committed. After we learn about God and True Parents, we need to resemble them.
To resemble them, we should attend the workshop five times, as a means of climbing up the five stages by ourselves -- from the individual, through the family, tribe (clan), race (ethnic group) and nation. Based on that condition True Parents can take us with them into Cheon Il Guk.
Foundation Day is the day of God's Holy Wedding and the day on which God's first family begins. At the same time, it is the day on which we blessed families, in the position of True Parents' children, ascend to their position with them and begin God's homeland. Because, it cannot begin without citizens....
True Father also said that we needed to take a test at the end of each workshop to check whether we had paid attention diligently. He clarified that all the participants should learn how to give lectures, and that at least two hundred of us should become lecturers. Since we are messiahs, we need to take our tribes with us, which is why we were trained as lecturers. During this workshop, our lecture skills greatly improved.

Question: What will those who complete the workshop focus on?
The fact is that the blessed families are all tribal messiahs, but we have failed. That is why we have now become new tribal messiahs who before Foundation Day need to educate our tribes and bring them to the Blessing Ceremony and teach them to practice Hoon Dok Hae as a part of their lives of learning about True Parents' traditions, to inherit True Parents' bloodline and model their lives on True Parents' lives.
When True Father wrote the text of the original Divine Principle in 1951, he could not reveal these things, because it wasn't the time to do so. Had he revealed it publicly he would have been persecuted to the point of being killed. The OSDP teaches that God has sexual organs. We had not been teaching that. If someone had said forty or fifty years ago that God has reproductive organs and that He needed to get married, who would have believed it? People would have thought that Father was crazy and persecuted him even more.
True Parents could not previously reveal certain things about God, but now they have filled in the well of indemnity and ascended to the position of the God of Day having triumphed over everything. The time has come for them to reveal the original substance of God and they have done so.