| | | | |
| --- | --- | --- | --- |
| | The Words of the Lee Family | | |

New York ACLC Farewell Breakfast for Rev. In Hoi Lee
July 15, 2006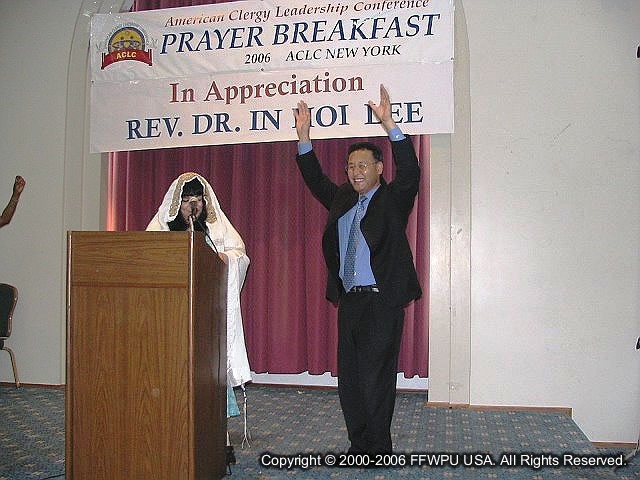 ACLC clergy and FFWPU members from the New York Metro area gathered in the chapel at 4 West 43rd street on Saturday July 15th to honor Rev. Dr. In Hoi Lee, Chairman of ACLC NY, before his return to Korea. Bishop Margie de la Rosa, Christ Family Church of Mt Vernon, made everyone welcome with her embracing motherly heart.
Dr Lonnie McLeod led us in the invocation to honor Rev. Lee, who has given honor to God. The WestRock family choir created a beautiful atmosphere with three songs: "In Excelsis Deo", "Every Time I feel the Spirit" and "Thereís a New Song a Singing in My Soul". Pastor Nagi Yousef, the First Arabic Baptist Church of Yonkers, led the blessing prayer for breakfast. At the conclusion of breakfast Bishop Armah shared a short reading of the ACLC goals and objectives he placed great emphasis on how the Divine Principle unlocks the secrets of the Bible.
Rev Levy Daugherty, ACLC Secretary General, began sharing about why Rev Moon instituted the United Federation of Churches (UFC). He stated that a church is not a building but the body of Christ. The core objectives of the UFC are to rebuild the family, restore the community and renew the nation and world. He concluded by saying that we must be significant to the community we live in.
Following Rev Daughertyís talk a beautiful song "Lord, We Need Your Love" was dedicated to Rev Lee by Rev Wyatt Tee Walker Jr. and his wife. The blessing with holy wine was introduced by Rev Grodner and led by Rev and Mrs. Watson and concluded in prayer by Archbishop Angel Torres from the Bronx. Our WestRock family choir returned again with the beautiful prayer of Francis of Assisi "Make me a Channel of Your Peace".
After being introduced by the emcee, Rev Lee shared how precious each one is to God and how grateful he was to each minister present. To the ministers he said, "You have taught me a lot, especially in taking down barriers". Concluding he said, "Letís not say good-bye, letís just say, see you again". After his talk, Rev Daugherty and Dr McLeod presented Rev Lee with a plaque honoring him for his investment in the local community. Archbishop Moses de la Rosa said that Rev Lee had qualities that were present in the saints of the Old Testament, that he would not be returning to Korea with a lot of people or great wealth but with great wisdom, knowledge and love. Like Paul, he said, "You have made many missionary journeys for the Lord; now you will be returning to a volatile and tremulous situation." he ended by referring to Ephesians 6:10 "Be strong in the Lord".
Apostle Varick of Queens and Dr. Savage of Long Island presented Rev Lee with a plaque and flowers from ACLC New York. Bishop Ahula, Christ Family Church, offered a prayer, and evangelist Jennifer Miller offered a song entitled "Because of Who You Are I Give You the Glory". In preparation for Rev Kendrickís keynote sermon, Mrs. Beryl Green read excerpts of Rev Moonís words on Jesusí life, and Bishop Drecketts read Psalm 23.
Rev Kendricks, pastor of the First Grace Baptist Church of Harlem, said it was a great privilege for him to give the keynote sermon. He reminisced how he and Rev Lee drove around Harlem together and how this provided an opportunity to get to know each other. Quoting a preacher from England, he said the 23rd Psalm was the jewel of all psalms. Acknowledging King David as the writer, he said it had to be someone who walked long enough with God to know that you could give God all your difficulties and God would give you liberty, that you could give God everything that was valuable to you and God would give you back something extra special, namely the Holy Spirit, that God was the way in and the way out and that God was a shock absorber. In speaking about Rev Moon, Rev. Kendricks said he was a shepherd and the shepherd has to have a tender heart. He related a story of how sheep can distinguish their master because of this quality. He ended by saying, "When you look at Rev Moonís words on what happened in the Garden of Eden, you realize we need the help of good angels."
Rabbi Hadashi from the Bronx offered a prayer for the youth and a transfer of youthful spirit to those who are older. Rev Rosario offered a prayer for the speakersí offering and wished Rev Lee all Godís blessing and good fortune in his new mission. Mrs. Beryl Green related how Bishop Cecil Riley wanted to be present, but was unable to due to a prior commitment in Canada; however, he planned a personal farewell breakfast at his own church. Archbishop de la Rosa led the closing of our meeting with a short story about his experience owning a lamb as a little boy and said, "Rev Lee is a man of God because he listens to the voice of God."


Download entire page and pages related to it in ZIP format


Table of Contents


Information


Tparents Home