| | |
| --- | --- |
| | The Words of the Lay Family |
Blessed Children's Summer Camp
Lisa Patterson-Lay
September 1982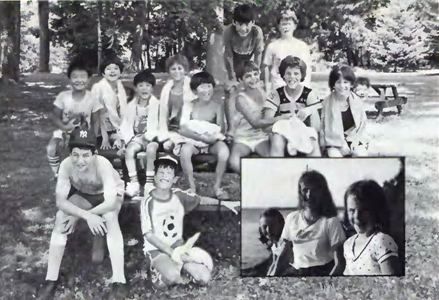 Chaim Durst, front row left, pauses for smiles with boys' soccer team at blessed children's' summer camp held at Barrytown, New York.
The last two weeks of July were a special time for 26 blessed children ranging from ages seven through twelve as the third annual Camp Sunrise was held in Barrytown. Under the direction and guidance of Mrs. Nora Spurgin, Mrs. Marie Ang and Mrs. Linna Rapkins, the camp was offered as a forum for the children to have a total experience of spiritual learning, group sharing and just plain fun. The children were from blessed families all over the country, from as far away as Portland, Oregon and from a wide variety of international backgrounds.
The reality and potential growth of the camp is something of a dream come true. There has never been a structured, nation-wide educational program to bring the blessed children together before, and it is the ho; c that from this, more programs can develop and grow.
It was a memorable, even a magical time for me, serving as a camp counselor, to share the lives, joys, struggles, thoughts and feelings of these remarkable children.
Each year, the camp has a theme from which many of the activities stem. This year our theme was "Pioneers," focusing on the lives of the early American settlers, and merging this with the idea that, as blessed children, they too, are pioneers in their own right -- paving a pathway for all children to come. Many children were from families who live far I removed from any other blessed families and, when asked, they revealed the pain and loneliness they so often experience, having no one their own age to relate to on any kind of deep or spiritual level.
"My bus driver doesn't like me because I am a Moonie, and the kids I sometimes make fun of me and yell, `Moonie, Moonie,' when I am around. I get angry and I want to fight back, but I have to realize that they just don't understand about the True Parents."
Discussions like this came out often during what we called "Good Morning Time," a morning service-type of time set aside each day to learn some basic Divine Principle lessons and also practical application in their daily lives. Mrs. Rapkins led the children in some simple Korean lessons as well as encouraging them to share their experiences of family life. Their understanding of themselves as "blessed," translated often into, "sinless," "children of the True Parents," and therefore "more responsible to be an example of goodness to others."
The depth of their heartistic understanding was only matched by their energy in everything they did.
The majority of their day was filled with vigorous games of soccer and dodge ball led by boys' counselors Isaac and Chaim Durst, plus archery, horseback riding, arts and crafts, and a special daily one-hour class in Won Hwa Do led by seminary brother, Mr. Hoshiko.
All the children took swimming and diving lessons under the supervision of Susan Shacter-Spowage, a licensed instructor and seminary graduate. Susan also helped a great deal with song- leading (the kids love to sing) and led all 26 on our memorable overnight camp- out in the woods.
After bundling secret teddy bears into sleeping bags and trekking out to the wilderness of Father's and Mother's trails, after battling stubborn pup tents and installing our "pioneer bathroom," (a hole in the ground) the children triumphantly sat down to their campfire stew only to be deluged with the only heavy rainstorm of the entire two weeks.
All bravely stuck it out and came back drenched and laughing and asking when they could do it again.
In the afternoons, the children also worked on a series of skits, based on the "Little House on the Prairie" books by Laura Ingalls Wilder. Costumes, props and backdrops were created by the kids themselves and when the day for videotaping came, they performed magnificently in their roles of old days pioneers. Ten-year-old Trenor Rapkins helped a great deal in the creation of the sets and all the children practiced their directorial skills when one or another forgot his lines.
Twelve-year-old Naeran Verheyen, the oldest of the children, assumed the role of junior counselor to the girls, aiding Mimi Aslid and Gabriella Rodriguez in organizing and helping in sports and other activities.
Eleven-year-old Dara Pearson helped Susan teach swimming to those who were beginners, ten-year-old Jo Won Seuk led all in their Korean pronunciation, eleven-year-old Davy Ang and Matthew Jones shone as budding soccer stars and twins So Young and So Jung Pak entertained everyone with their amazing piano playing.
Another surprise treat came when several of Father's children arrived to spend a couple of days at Barrytown. Kwon Jin Nim, Sun Jin Nim and Young Jin Nim all joined in the games and activities and Heung Jin Nim delighted the boys (and worried the counselors) with rides on his motorcycle around the grounds.
He even got the boys to partake in what was affectionately known as "F-O-B" (flat on your back time) after lunch. A major triumph.
A day trip to Museum Village, a restored frontier town, gave the children some helpful insights into the reality of the hardships that faced the pioneers, and also gave them food for thought in creating the scenes for their skits.
One of the favorite times of day was after dinner when we would all go down to the campfire site, light a fire and sing the night away. Susan and I wrote a special song for the blessed children, and to hear them sing with faces glowing in the firelight was, for me, a glimpse of heaven. Ending the evening in a circle of prayer, our weary little pioneers would hike off to their beds, tuck each other in, write reflections and drift off quickly.
One night, after "lights out", I walked up and down the aisle, just to watch them sleep and to pray for them, I felt the gratitude of God flood through me for these children, so pure, so innocent and so remarkably rare.