| | |
| --- | --- |
| | The Words of the Lamson Family |
North Carolina / Ohio District Knows How to Have a Meeting
Michael Lamson
January 17, 2008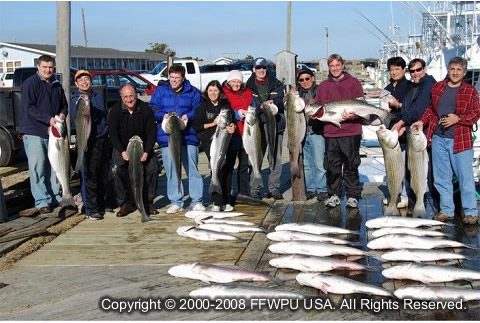 Dear Family,
District Director Rev. Michael Lamson knows how to win the hearts of the leadership of the Family Federation for his district -- he took them fishing and a couple of them won recognition for catching award-winning striped bass. Rev. Hutcherson told me that they caught more fish than any boat out that day!
Way to go, North Carolina / Ohio District!!!
A report and photos are with this message.
They are following the footsteps of True Parents!
Love,
MWJ
---
Michael Lamson's Report
On January 5th, 6th, and 7th the State Leaders gathered together with Rev. Lamson in Nags Head, North Carolina, to evaluate 2007 and develop strategies for accomplishing the 2008 goals. The State Leaders, Rev. Wooley, Rev. Harford, Rev. Schrattenecker, Rev. Saito, Rev. Hutcherson and Rev. Kambara,along with A. T., Rev. Fermin Bocanegra, Martin Kampich, Mamoru Uyama and Rev. Lamson put in their best efforts to create the unity needed so that Godís heart and inspiration could become the guiding force behind our discussions.
The meeting was held at a house on the beach in Nags Head, which was big enough to allow all of us to meet and be together for meals and fellowship. Art and Mika Lamson cooked and took care of us during the meeting (I think I gained 5 pounds).
Everyone arrived in North Carolina on Saturday, and Saturday night we shared a meal and played poker. Playing poker was an amazing way to get to know each other, and it was a night filled with laughter, bluffing and fun. Sunday we started the day with HDH and then it was meeting and eating all day. Our main focus covered three areas:
Tithing
Happy, Healthy BCFs
Church Growth
On Monday we chartered fishing boats and fished for striped bass (rock fish). We headed to the marina at 6:30 and each boat caught the allowed number of fish by 1pm. One boat spent a few hours catching and releasing fish because the limit had been reached. We returned to the marina with a little under 650 pounds of fish. Art Lamson and Rev. Schrattenecker caught citation fish. The State of North Carolina will send them certificates for these fish.
I personally felt so close to Father when we were fishing, and the day on the ocean brought all of us closer to God and to the purpose of our lives.
I have confidence that 2008 will be a year filled with happiness as True Father proclaimed in his midnight prayer. As we were discussing all the things that the providence will require from us in 2008, we could easily have felt overloaded but instead each leader was able to turn the potential burdens into blessings.
I thank Heavenly Father for the guidance from Dr. Yang and Rev. Jenkins and for the amazing State Leaders whom I am honored and privileged to work with for another year.
Rev. Lamson