| | | | |
| --- | --- | --- | --- |
| | The Words of the Krishnek Family | | |

The Mighty Power of the Holy Spirit Descends on the Northwest
Larry Krishnek
January 22, 2007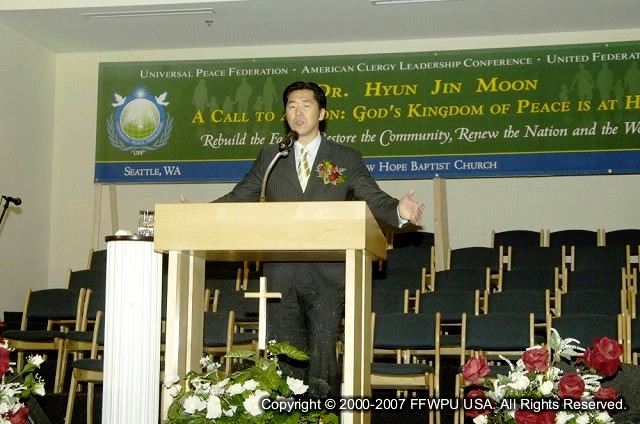 On Monday, January 22nd in Seattle, Washington, the atmosphere was charged with anticipation of a great event. The venue was held at The New Hope Baptist Church pastored by Rev. Dr. Robert L. Jeffrey. The guest speaker, Dr. Hyun Jin Moon, Chairman of the Unification Church International, flew in from San Francison on his 12 city tour. Rev. Larry Krisnek, the District Director, and Dr. David Burgess Vice District Director greeted the party with open arms representing the entire North west area.
Before the main message that day, a lunch was held at the Double Tree for all the AFP in the area. Dr. Moon could hear their own testimonies of their adventures. Some shared in tears how even coming back they were persecuted for associating with the ACLC movement. Yet, in all they maintained a conviction that the cause was just and right. Dr. Moon listened and then shared words of encouragement and guidance to each participant.
Then, that evening was prepared for the message on "A Call to Action: Godís Peace Kingdom is at Hand!" Filled with great excitement and joy, the audience came from all parts of the Northwest to be with the fellowship. Ambassadors for Peace, Clergy from the American Clergy Leadership Conference traveled as far as Alaska, Idaho, Oregon and Montana. Prominent guests included Bishop Donavan Rivers of the Mountain Calvary of Faith and Rev. Deborah Lajimodiere of the Interfaith Community Church.
Rev. Jefferyís church did a great job in preparation for this event. They opened the doors wide for all to feel welcome. Dr. Jefferyís work in the community for religious freedom, civil rights and social issues has been well respected. In that spirit, he recognized the good work of Father Moon and his family through the world. He was very inspired to have the event at his church.
Rev. Levy Daugherty, Secretary General of the ACLC built the spirit up with his inspirational introductions. He guided the musical performances of Ms. Rachael Curry and the Next Generation Band. People were on there feet as Rev. Dr. Michael Jenkins, Co-President of the ACLC lead in the master of ceremonies continue to inspire with a great reading from Acts 2:17 that the Day is here for us to lave each other and as church people to create miracle of peace all over the world. Dr. Tyler Hendricks, President of the Unification Theological Seminary, spoke of his seminary being an Interfaith Seminary where all faiths will be welcomed to study, listen and learn from each others. There they can discover a common enemy which is immorality, materialism, free sex and discover common ground as core values and principles of true marriage and true families.
Dr. Chang Shik Yang continued to build the spirit once again thanking all for coming and explaining about the history of Dr. HJN Moon tour.
Rev. Deborah Lajimodieree, who traveled with the 120 nation tour to Germany and all parts of Europe, shared of the love she received and experienced both by the local staff of ACLC as well as all those she spoke to. God was in the forefront of this ministry she embarked on with Father Moon. Bishop Rivers, who traveled on the 120 nation tour, shared deeply of his travels to Africa. He testified how people were opening doors wide open when they knew he was with Father Moon. Situations that would have been normally extremely dangerous turned into amazing blessings as tribal leaders discovered his affiliation with the work of Rev. Sun Myung Moon.
Then as Archbishop August Stallings, Jr. introduced Dr. Moon to the stage, the entire audience was one in heart to welcome the son of Rev. Sun Myung Moon.
As Dr. HJN Moon spoke the audience became totally engaged in his speech. No one could help but sit on the edge of their seat as he walked in the audience and talked one on one with many participants. His incredible smile and sincere conviction for the building of the kingdom was evident.
He said, "Of all the many hats I wear, the most proud hat I wear is to be the son of Rev. Sun Myung Moon." He then went on to comment on the great name of the church he was speaking in. New Hope is the message that began in Genesis and that of true love.
Rev. Moon he stated is not a bragger. He has spoken and recorded in over 400 volumes. His message has always been that of love, love for Jesus, love for making, Love for God. He teaches on living for the sake of others. Where is there heresy in any of these words? If Jesus was on earth right now, wouldnít he say the same? To fulfill Godís will. What is that mission? One family under God.
Gently but firmly, he would ask the audience to repeat, "One Family under God, Aju!" This was his motto for that night and the audience all echoed in this motto to the marrow of their bones. Standing and raising their hands at one point in conviction with Dr. Moon on his motto.
He mentioned thinking of a sand box. When children from all types of faiths, colors, or cultures are placed in a sand box together, they do not complain about what color your skin is or what language you speak. A child born to this earth is innocent and without prejudice. Prejudice is learned and God did not teach this.
And so he challenged all to get the message out: One family under God. We all stood with hands raised rededicating ourselves to this mission. With much joy and celebration, his wife and he presented special awards to the AFP who traveled in the 120 nation tour. Also, they presented to all the clergy and AFP framed Family flags to be hung proudly in their churches or community centers.
There were other wonderful opportunities to hear his message over meals and at the public gathering of prayer the next morning. He spoke on the value of nature and going out to explore Godís creation. "Farmers, ranchers and others working daily in creation cannot be Atheists. They must believe in God for they see God and depend on God all the time."
The regional Second Generation Academy performed for HDH that morning and it brought everyone to their feet. The STF youth also performed and built an incredible atmosphere of joy. When they joined as one and performed that clinched the spirit to another level. Then Dr. Moon proceeded to guide and encourage the youth of all ages to keep their determination to bold the kingdom.
He spoke on the value of conscience and our life on this earth is a preparation for the afterlife. We must prepare for a dramatic change. There is a lot of power in Seattle. We need to look forward and not look back. Like a youth who only looks forward with hope and anticipation. "Who is the youngest person I know", Dr. Moon asked, "It is Father Moon. He is always looking forward. He is always looking toward the future."
The fountain of youth comes from the UC movement. We need to open up our hearts and minds. Not be left in the box but outside the box. We need to continue to be an interfaith movement. Break down the dogma; focus on unity, the mission of all faiths is the realization of one family under God, and not just individual salvation but true Kingdom building to save all families.
BC families need to rise and bear fruit. Expand your faith and bear the freed on all levels. You all eat raspberries here in the Northwest? Like the bear and other animals that eat the berries, they digest them and then pass them through their bodies planting many mores seeds as they go. We must too do the same in spreading and planting heavenly seeds wherever we go. Plant this message of love in all the churches, One Family under God Abu.
You ask what is Aju. It is the BOOM to our message. It is a big exclamation point. It is to remind us to get back on course. We are dwelling in the Kingdom of God. God is dwelling in our home.
Do you love chemistry? I love any thing relating to nature. When people in martial arts break ice, they are dealing with the subatomic level of energy. You second generation can do so much with the energy that you have. Donít lose it or gorged about it. Nothing is impossible. Rise and go forward and proclaim Godís hope and dream, one family under God. Aju.
We all were lead by Dr. Moon to do a bridge ceremony to a new life and new beginning. All holding hands with a partner, others proceeded under the bridges of people around a very large circle.
Over breakfast the first day, he shared of his love for creation. He loves the outdoors because nature will give you abundant blessings. That is where he learned of God while out in nature. He shared about his teenage years as a fisherman for tuna. Later, he shared about cutting his teeth in nature by his many experiences in Alaska. Then he talked about elk hunting in Montana. Out in nature, you cannot hide or lie. When you learn how to ride a horse, the horse must know you as the subject. Even a small person can control nature because nature sees all things in a vertical way. Outdoor education is very important. The best shooters are women. They have good concentration while men can be all over the place.
Over just two days, we all felt both blessed and with hearts of a new determination. We are so grateful for the many staff who worked behind the scenes in service and sacrifice. Rev. Mary Anglin, Rev. Gerhard Wiesinger, Mr. Jeff Adshead, Mrs. Penny and soooooooooo mmmany more!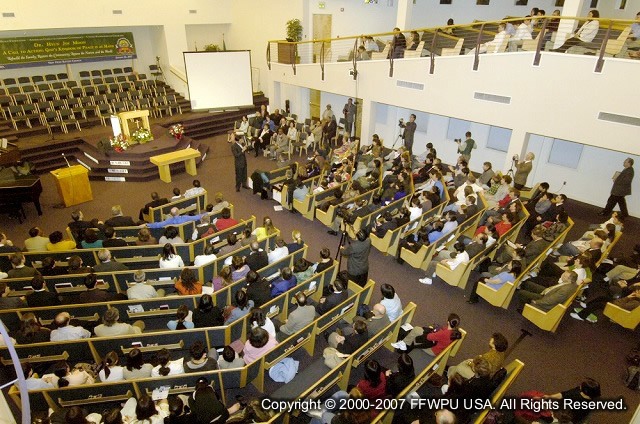 Testimonies from Seattle
January 22, 2007
Gary Spanovich, Ambassador for Peace, Executive Director, Wholistic Peace Institute:
I was very impressed with Dr. Moonís message. We are going to present to him the Peace Prize from the Wholistic Peace Institute for 2007.
Rev. Silversity Madrazo, Ambassador for Peace and ACLC member:
Dr. Moon had a message from the heart that came out of experience and exposure. I am and Ambassador for Peace and proud of it.
Pastor Donald Ward, ACLC member and his wife Mary Ward:
It was very inspiring, the message resonated with our believes.
Dolly Callis, Leader of Pilipino Community Center:
Thank you for inviting us. I had a wonderful time standing with Dr. Moon and saying together with him: One Family under God, Aju!
Bishop Alfred Roberson of Trinity Faith Temple:
It was awesome. Thank you so much. I am glad I came. I gained new friends.
Father Pang Rubye, Ambassador for Peace, Director of Church Women United:
I liked it very much. I enjoyed the message. I can relate to it. And I was impressed that Rev. Jenkins recognized me.
E. Mandisa, Ambassador for Peace, Producer and Host of Radio Talk Show on Afragenesis Network:
It was very inspiring. I am uplifted.
Dr. David Tuiasosopo, Ambassador for Peace, Representative of UCC Pacific Islander and Asian American Ministries
It was wonderful. It is inspiring to hear Rev. Moonís son preach about Jesus.


Download entire page and pages related to it in ZIP format


Table of Contents


Information


Tparents Home