| | | | |
| --- | --- | --- | --- |
| | The Words of the Jenkins Family | | |

Los Angeles - Victory - True Parents Were Really Uplifted In LA
Michael Jenkins
November 1, 2004
Dear Family,
A full report for Chicago and LA is coming latter tonight.
Just to let you know, Father and Mother were very inspired with the 1000 guests that came to the LA program for World Peace and Unification Centering on True Love.
Father spoke so deeply for three hours. Father didn't want to leave. It was as if he really knew this was the last moment of his speaking tour history in America.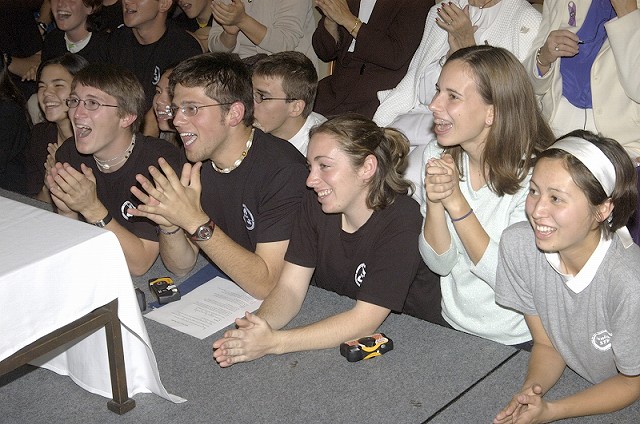 Sammi Fleisher and STF Members At Hoon Dok Hae
with Rev. Moon in Los Angeles, October 31, 2004.
At Hoon Dok Hae 700 gathered. True Parents were deeply inspired by the youth who gathered at the stage. STF, CARP and High School young people clung to every word that Father gave. He spoke so deeply and warmly in English.
During Father's Speech one region reported the number that put us over the two million. We never imagined that this would occur during the last speech
Truly Father has secured and protected America. He has confirmed for us that America as the Elder Son Nation will go beyond November to lead the world. The people who came to these events are the ones chosen by God to make this happen !!!
We saw Father and Mother off at the Airport - it was a beautiful victory. It was a victory from the heart. America united and did exactly what Father said. 2 million blessing and the best of the best ACLC and Amb. for Peace to the speaking tour. 12 clergy went each step with Father. They are all committed like Rev. Edwards and Bishop Stallings - They believe that Father is the one chosen by God. He is the Lord of the Second Advent.
God Bless America.
I sincerely thank you leaders and Blessed families. You did it again. Now Father wants us to go on to bless 6 million more.
MWJ

Download entire page and pages related to it in ZIP format


Table of Contents


Information


Tparents Home