| | | | |
| --- | --- | --- | --- |
| | The Words of the Jenkins Family | | |

2nd Generation Performs At Carnegie Hall
Michael Jenkins
May 31, 2004
Dear Family,
Amazing phenomenon are occuring around the Blessed Central Families allowing them to take center stage for in so many areas of human endeavor. It is the realization of God's blessing upon those who have served the Lord and Humanity.
We sincerely encourage all members (especially NY and NJ) and all Ambassadors for Peace to experience the gift of our beloved sister ___. She will perform at Carnegie Hall on Wednesday, June 2nd. Please attend. It is another moment in the realization of the Cheon Il Guk - Kingdom of God on earth.
Love and Gratitude to ___ and her family. You make True Parents Proud.
MWJ
An Outstanding Second Generation Debut at Carnegie Hall, New York June 2nd
True Father designed Carnegie Hall Debut for ___ to the whole world True Father discovered her outstanding musical talent at her age of 9. In 1997, True Father personally called Jun-Sook Nim to find a musical mentor to develop her skills as a violinist. Jun-Sook Nim recommended Professor Albert Markov of the Julliard, New York. He is a world-renowned violinist. 5 years later, True Father asked to set up an incredible debut for her and give an unbelievable impact to the whole world. So, Father recommended to use one of the biggest musical halls at this time, June 2nd 2004. True Father is expecting successful concert.
True Father has supported ___ for 5 years, and Her talent has now blossomed: Father gave ___ scholarship to study violin in America, and she came. ___ has made tremendous musical studies with her spiritual dedication. In 2002, she received a special prize in South Korea for being the "Best Musician of the Year" because ___ was the youngest violinist ever to perform Paganini's 24 Caprices, which is the most difficult violin piece on stage. Even in the history of violin, only a few select individuals have performed this piece live on stage. On June 2nd 2004, ___ will perform 24 Caprices by Paganini. It should be noted that ___ is the youngest performer in the history of Concert Violin.
___'s grandfather, Young -Ki Moon, was the True Father's first cousin. He passed away to the spirit world in 1999 and True Parents gave him a special title called "Sim Jae," (True Brother at heart) because he was testifying True Father in the early days in North Korea, and until his death, he was always loyal and faithful to True Parents.
___'s Carnegie Hall Debut is our Proud and Historical Witness This is a very proud moment for our movement and to the second generations as a whole, because she will be presenting our church and our members in front of many people through beautiful music, on the stage. Therefore, it is hope that our members can feel proud and also can support ___ on this occasion by coming out and being a part of this historical event.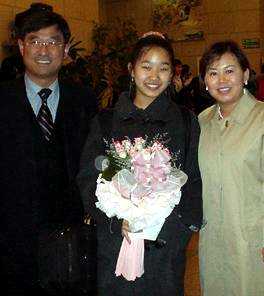 ___ With Her Parents

Download entire page and pages related to it in ZIP format


Table of Contents


Information


Tparents Home