| | |
| --- | --- |
| | The Words of the Hinterleitner Family |
Religious Youth Service Project Renovates Sites in Estonia
Johann Hinterleitner
August 22, 2012
UPF -- Estonia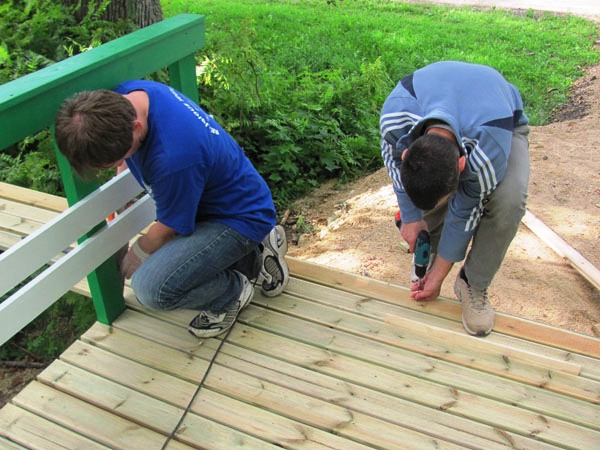 When? August 13-22
Where? Pilistvere, Estonia
Contact Johann Hinterleitner
A Religious Youth Service project on the theme of "Serving Together for Peace" was held August 13-22 at the Lutheran parish in the village of Pilistvere, Estonia.
Twenty-eight participants from Argentina, Austria, Belarus, China, Czech Republic, England, Estonia, Honduras, Italy, Japan, Russia, Spain, and the USA lived and worked together as an interfaith and international community.
At the orientation, participants learned about unique elements and vision of Religious Youth Service and the special role that each one should play as a representative of his/her culture and faith. During the following days, volunteers and staff built a community spirit with a shared vision of treating others as they would like to be treated.
The young people attended Sunday service at the Lutheran church and met with the pastor, Hermann Kalmus, learning about the relevance of a religious life, religious traditions, and the impact that religious people are making in peace-building.
The main service activity was renovating the monument to the victims of communist repression and making improvements at the Lutheran church's summer café.
Volunteers visited the intellectual and cultural city of Tartu in south-central Estonia; it is the second largest city of Estonia and site of Estonia's oldest and most renowned university.
Lectures, spiritual readings, group discussions, work activities, sightseeing, and reflection times were combined to unite participants in activities of service-learning and develop leadership abilities that will enable them to help create a culture of peace.
Through the practical and insightful educational programs and sharing led by experienced lecturers from Russia and Finland, participants gained insights into their own lives and the lives of others. Topics of discussion included tolerance, conflict prevention and resolution, love languages, and personal growth.
During the final reflection period, participants expressed a desire to be actively involved in programs and peace-promoting activities with diverse people in the future.