| | |
| --- | --- |
| | The Words of the Hartley Family |
Considering oneself as a child
Edward Hartley
April 7, 2012
Chair UPF Bromley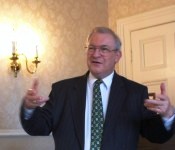 The Universal Peace Federation in Bromley held an event on UN International Children's Day 20.11.11 at Livingstone House, Chislehurst at which some 35 people gathered, to consider the question:
Is the UK a child-friendly society?
The UNICEF report had already answered this with a resounding NO!
As a follow-up to that event and on the heels of the Children's Society publishing the Childhood Report 2012, UPF decided to invite a representative of the Children's Society to speak on the Childhood Report 2012 and also to again invite Mr. Jack Corley to give a talk on the kind of education needed by young people to grow up with a healthy balance between technical ability and spirituality.
The event took place under the title:
What must be done to make the UK a child-friendly society?
On 26.02.2012 at Livingstone House, Chislehurst.
A recently made video was playing in the room as people gathered designed to give a very short overview of the vast range of activities of the Universal Peace Federation worldwide.
The MC Mr. Edward Hartley, Chair of UPF Bromley, welcomed the audience of about 20 people from many backgrounds and shortly explained the structure of the event. He then proceeded to introduce Mrs. Karen Forster-Pearce from the Children's Society who came up especially for the event to Chislehurst from Sevenoaks with her 11 year old son Guy.
She explained how the enquiry had 6 parts and looked extensively into many aspects of childhood in the UK today (see below for a source of the details of her talk).
She also quoted from a Daily Mail article about how simple life used to be 40-50 years ago.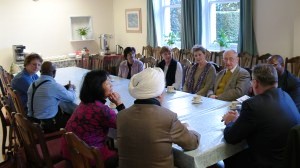 Mr. Jack Corley, Chair of UPF UK, spoke on making a healthy and positive environment within the family as a basis for these young people becoming excellent citizens. He spoke about educating for character, that it is important to present values to young people in a structured way.
Education should be given, not just about academic subjects, but also how to be an asset to the world.
Key points are: to have a mature character, have loving relationships and make a contribution to society.
Cultivation of the heart is the most important part and is fundamental. The family is the place to feel and experience love. It is the school of love.
The meeting was then opened to the floor where members of the audience had an opportunity to make a contribution. Dr. Singh from Beckenham talked about considering oneself as a child. They are virus free and clean so we can learn a lot from children. Avoid speaking over their heads. Encourage them to speak out. In a teacher/student situation do not sit on the high table. Everybody learns and everybody teaches.
Sulaiman from Southwark made some very good points concerning the five principles of ensuring wellness of children. Children ultimately need as balance of affection and discipline.
The conclusion was that creating the best environment for child-wellbeing is a vast subject which would take many sessions to cover.
One is referred to the good work of UNICEF (read a report about child well-being across 21 industrialized countries here and a report about Child-Friendliness here) as well as the good work of the Children's Society (their 2012 good childhood report and Promoting positive well-being for children policy are available), to start with, for a more in-depth understanding of the issues.
The next UPF Bromley event will be celebration of the UN Day of Families on 13 May. There are also plans to have Sunday afternoon lectures from Mr. Jack Corley for Ambassadors for Peace and UPF staff members.