| | |
| --- | --- |
| | The Words of the Harnett Family |
Yeon Ah Nim Brings Hope To Alaska At Eagle River Missionary Baptist Church
Eugene Harnett
May 21, 2007
Eagle River, Alaska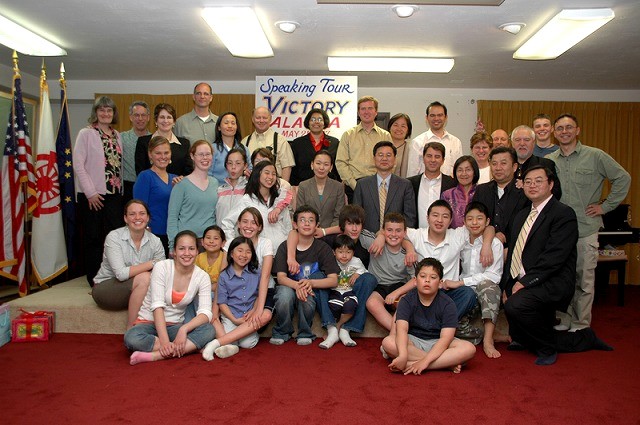 The First Samoan Body of Christ Choir launched the Pacific Rim era in Alaska by singing a warm Aloha song dressed in their traditional island garb to begin the Anchorage speaking event for Yeon Ah Nim at the Eagle River Missionary Baptist Church. Five prominent individuals, including the former Lt. Governor were appointed as Ambassadors for Peace. Valorie
Miller, a Christian Science minister, responded to her appointment by saying, "I feel I have to live up the ideals of it."
Judye Houle, co-chair of the Alaska Parentsí Day Committee, said she "feel energized," and, "I want to do more now."
The Honorable Loren Leman, former Lt. Gov. spoke about how he feels having just left 16 years of public life that this appointment as an Ambassador for Peace is a call to that life of public service again.
As the choir continued to sing, the island culture of the Pacific infused the audience of two hundred with its rhythms and voices. During this time, Yeon Ah Nim met privately in another room with the womanís greeting committee, sharing intimately and creating a bond of heart that brightened each participant as they entered the church hall and sat in the front row.
Rev. Dr. William Greene welcomed all the guests, splendidly pleased at the number of guests turning out. Three vans were organized and filled by one Ambassador for Peace and two supportive ministers. Also, in three complete pews sat Second Generation members enraptured by the spirit of the event. There was a truly adoring love for Jesus present as prayers and scriptures were read. Galatians 3:26-29 stated that "there is neither Jew nor GreekÖ ye are all one in Christ Jesus." Anna Reid, a Second Generation member, sang a special musical number with piano accompaniment of Bishop Joshua Cotter, raising the heart of the audience just before Archbishop George Augustus Stallings, Jr. came up to preach.
"I am the John the Baptist," the Archbishop intoned, echoing what Rev. Greene had the day earlier told him he was. The Archbishop proceeded to read the Scriptures that explained about the significance of the Jubilee in Jewish history. "Father Moon has declared this year a Jubilee year!" Such a prophetic hope was raised, as he graciously and with characteristic passion went on to introduce Mrs. Yeon Ah Choi Moon to an audience prepared.
Yeon Ah Nim, who had listened and watched the program unfolding intently as a participant in the audience up to now, stood and walked to the pulpit. She shared some personal comments, before beginning the speech in earnest. With a crisp clarity her voice filled the church. Audience members carefully followed her words in the speech booklets handed them. Afterwards, Yeon Ah Nim joined three women from the welcoming committee at the front to sign the Proclamation of Peace, read out loud by Rev. Sandra Hayes. Remarkably, earlier that day Rev. Hayes had a "divine coincidence," as she said later, in that she met Yeon Ah Nim at the same restaurant for lunch earlier in the day.
Some comments from participants in response to the message of the event:
Ushella Smith:
"We are to be one. The world is to be one, the people, we can be that. Thatís what I felt from this tonight. We should be come one. I feel that hope."
Rev. Cynthia Edwards:
"Thank you for including me in this program. I was honored to bring her flowers and shake her hand. I got so excited about the possibilities in the message."
Rev. Robert Edwards:
"Are you going to be here tomorrow night, too? We canít get enough. We are to be together, not separate from each other."
Rev. Eric Jackson:
"Unity. Thatís it. Unity. The home and the family is where it is built. It has to start there. Thatís the place you got to start from. If it doesnít exist in the family, then all the other things arenít going to make much difference. The message is the importance of the family. How much it matters. We need to have this."
Jim Robinson:
"I like that in a minister. Stallings can take two verses and give us a sermonette. He can take just the crust of a bread and give us the whole sandwich."
Linda Reinhart: (13 years old)
"Each time I come to one of these events, I become wiser."
Judye Houle:
"I want to do more after this. I feel energized. I will do more."
Val:
"I want to have the same kind of love as Mother Moon has for other people."
At the Victory Celebration later that evening, Yeon Ah Nim sat and shared her thoughts with the Anchorage Family Church members. She echoed her joy at seeing all of us, expressing the energy she receives from members. She emphasized that changing the world is up to us to do it.
Eugene Harnett
May 22, 2007