| | |
| --- | --- |
| | The Words of the Francis Family |
Testimonies from Washington DC
Randy Francis
May 26, 2007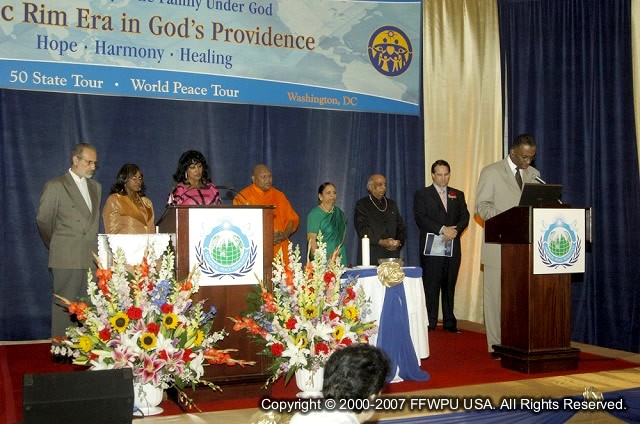 Bishop C. Phillip Johnson- New Prospect Family Praise and Worship Center
He Told me after the event: "I connected with this movement in 1982 and went through all of the phases... CAUSA, various ministries, ACLC, Amb. for Peace, etc. What 'caught me' about this movement was that I saw the members standing strong when they were receiving great persecution. They had principles that they were standing on and nothing would move them. Dr. King had told us that the character of a person doesn't show through in the good times,,,, it's in the face of adversity that a person's character really shines through. And I saw that the members of Rev. Moon's church were all people of this unbending character. That's what I couldn't turn away from. And then, of course, I learned that that type of character was given to them through Father Moon's living example. Now the world is seeing the same example through Mother Moon. Thank God that we were brought to True Parents!"
Reported to Howard Self
Rev. Joleng Chang, minister of Unity Church, VA;
She met Dan Fefferman in the late eighties and attended several Sisterhood Ceremonies in 1995 and 96: This was so uplifting, inspiring, I felt that we are all in this effort together. It was such a strong communication of this peace message. Everyone should hear it.
Ms. Jan DuPlain, Pres. of DuPlain Enterprises, and co-director of Interfaith Speakers Bureau, DC, and Ambassador for Peace, attended Washington Times Gala:
Every single program you all do is totally top notch, so moving and inspiring. Mrs. Moon was excellent, such a dignified and feminine woman of peace. She was so warm hearted and inspiring; her son was exciting, inspiring and powerfully charismatic. The entire program was excellent.
Rev. and Mrs. Moon are ahead of others in encouraging women to take leadership a role at this time. The age of women is so exciting. Wow, what a great idea!
Reported to Susan Fefferman
Rev. and Mrs. George SImon
This was the best program we have been to. Mrs. Moon is looking younger than ever. My son should have been here. We will definitely be there on June 3rd in Baltimore.
To Gregg Jones
Rev. James Hollis, Jr.
This is my first meeting, I will be back to many more and will be bringing many more people with me.
Dr. Belai-Medical Doctor, Ethiopian Radio Talk Show Host
Give my love and respect to Rev. Moon. I want to say thank you very much for having and sharing a their life of vision, value, and destiny. We enjoyed this beautiful program today-especially I was heartened by Rev. and Mrs. Moonís anointing of women, to be the next leaders of peace. I share and appreciate his concern for vulnerable people around the world.
The vision of the island nations bringing renewal and harmony to the world is well taken. May the Lord Bless you and your family and your vision for peace and prosperity! I will dedicate my talent and resources to bring to reality your vision and love for humanity. We love you!!!!
Govinda Giri Prerana-Journalist and writer with Nepalese newspaper
It was the most wonderful program I have ever attended. One of the delegates from Nepal who attended the Washington Times Gala, was the daughter of our current Nepalese Prime Minister-she also had great interest in Rev. and Mrs. Moon and their vision, -On this program tonight I was so excited to hear the speech of Mrs. Moon-I am going back home with new vision and new life!
Dr. Condie M. Clayton-Minister of Cedron Brook Baptist Church
I want to thank the folks that extended the invitation to me to come here tonight. It is great to awarded for what comes natural Ėbeing helpful and encouraging-giving hope and possibility. But more importantly through this program, we can encourage others to do likewise. Like throwing a pebble in a lake-this program will allow that to happen. Itís not who is right, but what is right.
Dr. Abeba Fekade-Psychologist-International Ethiopian Womenís Organization.-Spiritual Counselor.
Tonight I was very very pleased with the program, and the vision of peace. It is so needed and so timely and crucial. I am very glad to be part of this. It is a privilege and a blessing. At this time in our world, it is so important to give attention to peace. Peace canít be achieved without the presence of God-that is the most profound concept of the movement and the evening. The general spirit is very reflecting of the concept of one family under God. I love the idea of the Abel United Nations. Physically we represented the UN tonight,-so diverse-at the same time, you can see the deep essence of being one. The energy behind it and the 3 Hís is what we need. Hope is essential to hold on to, Harmony Ėtools for peace and Healing.
It was a Healing experience-I am very happy to meet so many who really reflect God.
Juliet Sylva-The Lordís Ministry for all Nations-on Domestic Violence and Abusive relationships.
I loved the speech, especially Mrs. Moonís speech-it was very inspiring and I believe that there is so much chaos in the world. We need peace all over this world, or else our children are doomed. This is my first time, and I loved it, I want to participate in the future and become an Ambassador for Peace.
Keturah Bundu-Child and Family Services International
It is a privilege and an honor to become an AFP, Today I saw the blessing of the anointing of God across all nations. Thanks to God for choosing Dr. and Mrs. Moon from Korea, anointing them to build such a great Federation under God. It has elevated my faith to believe in God and to serve and love God and all people.
Marvin Fields-Former Elected Official-DC Commissioner
If we could put together things they way that the vision intends, this could be a phenomenal success. (the Ambassadors for Peace int) If I could take the resources and improve my community and duplicate it around the country and the world. I was led and called to be an AFP.
I think the speech was the exact blueprint of how to start peace and productivity throughout our Washington DC neighborhoods because they are so consumed with many kinds of blight, senselessness and hopelessness. This is the model to really start putting the philosophies of Rev. and Mrs. Moon to practice. We can instill hope into our communities and abroad. I would like to spearhead such a tremendous initiative.
Letter From Dr. Kazmi:
Thanks for your encouragement and spiritual guidance. Tonight we had very important 30 Guests from Pakistani American community at the event. My guests are very impressed and spiritually moved by the presentations and True Motherís speech and introductory remarks by Dr. Hyun-jin Moon.
Imam Abu Al Fazal Naheedian, Founder of Manassas Islamic Community Center was pleased to hear TM and impressed by the contents of the speech. He admired the diversity of the gathering. He appreciated the UPF movement for advancement of Peace and Harmony.
Mr. Aurang Zeb and his wife represented for Blessing. Both husband and wife had great feelings after the blessings. Mr. Zeb is a well known Islamic and Social activist of Washington Metro area and Custodian of The Al- Mustafa Mosque. He said we are excited to play our role as Ambassador for Peace. Imam Hafiz Omar Farooq Khan, a young Muslim Leader of Washington Metro Area said we must cooperate with the UPF for Peace movement. He said as a young Muslim American he must appreciate such kind of gatherings.
Mr. Shehzad Chaudhry, President Pakistan Muslim League (N) count the efforts of the UPF for World Peace and Inter-religious harmony. He said we are fortunate that Allah has provided me a great opportunity to join hands with the UPF as Ambassador for Peace.
Mr. Babar Ali, a renowned Pakistani classical singer happily mentioned that I am moved by the slogan: One Family under God, Aju. He said it is really unique and sacred. He said I am delighted that I am an Ambassador for Peace. I have received the same kind of reactions and remarks from my all guests. I am happy that I have introduced 30 most important and high level people to the movement. May Allah accept my service and fulfill my heart with True Love. Sincerely, Dr. Zulfiqar A. Kazmi