| | |
| --- | --- |
| | The Words of the Francis Family |
Maryland Event - June 3rd 4:30pm for the 50 State Tour
Randy Francis
May 26, 2007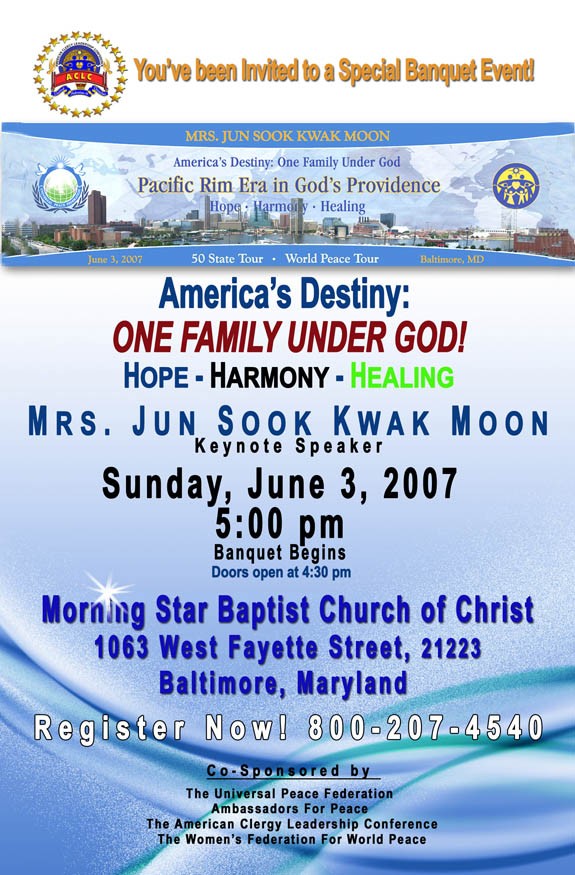 Dear Brothers and Sisters,
The 50 State Peace Tour will reach the 7th day on Sunday. Please keep your prayers strong for all 3 portions that are happening each day. We now have 2 members from our community working in Oklahoma: Ilemabilia Mabau and Teresin Santana. Also, there are 2 members working in Mississippi: Bruce Williams and Chisoni Ngoma. Keep them in prayer as well.
As a nation, we really need your financial support of this tour. We have received no budget from HQ. It is solely our responsibility to raise the funds. We are trying my best to keep the expenses low, but it still will be approx $80,000 for all we need to do.
If you have not been able to complete your $600 offering please do so as soon as you can. You can give an extra check at Sunday Service or mail to the district office at 1610 Columbia Rd. NW Washington, DC 20009. You can give part now and part later if needed.
If you have any experience or reflections that you yourselves have had, or may have heard from others, please send them to me. I want to hear what you are thinking as these events are taking place. I heard from one person that he feels "this 7th world tour is like the 7 times Joshua marched around Jericho. Soon the walls of hatred and war will come down". Keep that hope alive.
Above is the flyer for the Maryland event which will take place on Sunday, June 3rd door open at 4PM the Banquet begins at 5PM.
Our Goal is 200 participants from all over the state and from every walk of life.
Morning Star Baptist Church is a 130 year old church just a few blocks from the Maryland University Hospital and School of Medicine.
Please bring any new AFP appointees for this program. Let's create a glorious welcome for Jun Sook Nim. We have heard that Hyun Jin Nim may accompany her as well.
Thank You, R Francis