| | |
| --- | --- |
| | The Words of the Eaton Family |
Peace Cantata "Halelu-Songs of David" to be Presented in Cyprus
David Eaton, ___, David D'or
March 3, 2008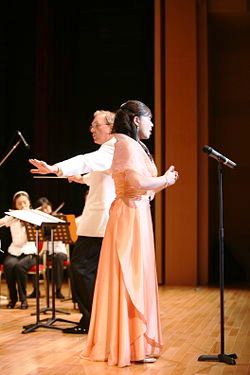 FOR MEDIA RELEASE
Peace Cantata "Halelu-Songs of David" to be Presented in Cyprus
The peace cantata, Halelu-Songs of David, will be presented at the annual summer EDAS Performing Arts Workshop in Cyprus on the 9th July, 2008. Inspired by the peace advocacy of the guest artists, EDAS Workshop director, Nili Glazer has adopted the theme "Creating Peace Through Art" for this year's workshop. The purpose of this particular workshop and based on its location (Cyprus) is to especially bring together students of the arts from countries around the Euro-Mediterranean area and young artists from all over the world to live, work together as one team for 3 weeks, develop personal contacts, artistic exchange of ideas and perform.
The EDAS orchestra and chorus will be mentored by three international artists, David Eaton, music director of the New York City Symphony, renowned Israeli vocalist/composer, David D'Or and acclaimed Japanese soprano, ___. The concert will take place on July 9th at the historic seaside Curium Amphitheater in Limassol, Cyprus. Mr. Eaton will conduct and Mr. D'Or and Miss Lee will perform the solo vocal roles.
International choreographer Lyn C. Wiltshire from University of Texas and Salzburg Ballet prima ballerina, Christina Uta will also contribute their artistry to the presentation of Halelu as they will choreograph and train the dancers. Ms. Cristina Uta will perform to several movements of the music.
Cyprus Government and several international Embassies are co-sponsoring the performance in partnership with the EDAS Workshop. (www.edas-cyprus.com)
Halelu Cantata
David D'Or and David Eaton first met in 2004 at the International Convention Center in Israel at the concert promoting Interfaith Unity. In 2005 they initiated the joint effort of composing Halelu and the music was subsequently recorded in Tel Aviv in 2006 with the Ra'anana Symphony Orchestra and the Philharmonia Chorus of Israel. The ten- movement cantata is an expression of the composers' desire to cultivate a culture of peace. The hope for musicians and artists to be Ambassadors for Peace by using their creative endeavors to promote understanding, healing and reconciliation lies at the heart of their collaboration. Mr. D'Or, Mr. Eaton and Miss Lee have performed internationally, advocating the importance of building bridges through the art of music.
Halelu was presented twice in Europe in 2007 including the world premiere performance at the Sava Center in Belgrade, Serbia with Mr. Eaton, Mr. D'Or and Ms. Lee appearing as the featured artists. The audience of 3,000 included Princess Elizabeth of Yugoslavia and 40 international ambassadors and diplomats. That performance was broadcast live on television to six Eastern European countries. A second performance of Halelu took place in Sofia, Bulgaria in October 2007 and was also broadcast on Bulgarian National Radio.
www.nycsymphony.org
www.daviddor.com