| | |
| --- | --- |
| | The Words of the De Borchgrave Family |
New Directions for a World in Crisis - Testimony to Sun Myung Moon
Arnaud de Borchgrave
2007
Editor-at-Large, The Washington Times
Editor-at-Large, United Press International (UPI)
Former Senior Editor, Newsweek magazine
Excerpt from the book The Hope of All Ages, A Unified World of Peace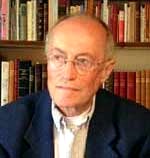 Reverend Sun Myung Moon is a world religious leader who has banned the word impossible from his vocabulary. He always lis­tens to experts who tell him what cannot be done and why it can't be done. And then he goes ahead and does it.
Reverend Moon has created a global media enterprise where edi­tors and their staffs enjoy total editorial freedom that is unprecedented in the world of journalism. This freedom has enabled journalists who work on these publications to tell the truth no-holds-barred. As a jour­nalist who has served The Washington Times, Insight magazine and UPI for twenty years, I can attest there is no secret agenda or unwritten rules as exist in so many other media organizations.
After his decades-long struggle against the godless empire of evil, Reverend Moon emerged victorious and was then quick to perceive that the rapid decline of moral values, social decay, and the breakdown of the family and religious values were threatening civilization as we know it.
Reverend Moon also traveled the world, including all fifty U.S. states, to proselytize indefatigably about what unites the world's prin­cipal religions. It is a war that Reverend Moon still wages daily to re­store basic moral and family values in the context of one God for all religions.
Under Reverend Moon's leadership, the Inter-religious and Interna­tional Federation for World Peace has brought religious and political leaders together from the four corners of the globe in the quest for so­lutions to critical global problems.
Thus, Reverend Moon has brought about new directions for a world in crisis, focusing on the obligations of wealthy countries to act decisively to correct the injustices and in­equities that have been inflicted on developing countries.
He has de­nounced the "unacceptable face of capitalism." The spawning grounds for transnational terrorism are in the grow­ing gap between rich and poor, both within and between nations. Reverend Moon has encouraged us to face this reality and the deeper issues that over the years have fanned the flames of suspicion, hate, and conflict.
He has blown the whistle at those states and leaders that have drifted into conditions of basic immorality, vanity, and arrogance, where greed and selfishness have become a way of life. Reverend Moon's detractors in the dominant media culture do not like to be reminded of the part they have played for the past forty years in glamorizing drugs, permissive sex, and, more recently, homosexual marriages.
Half of some five hundred thousand media workers in America, both print and electronic, have no religious affiliation. Eighty-six percent seldom or never attend church, synagogue, or mosque services. Only eight percent are regular churchgoers.
There is probably a correlation that explains how we have gone, in half a century, from endeavoring and laboring to report as factually as possible to the kind of reporting that gives equal weight to rumor, in­nuendo, factoid and fact, information and disinformation.
The media have become obsessed with sensational celebrity stories, sleaze and sex -- to the detriment of fundamental values. This is what Reverend Moon continues to speak out against as he brings more and more re­ligious leaders under the same global tent.
For more than eight decades, Reverend Moon has shown indomitable physical and moral courage. A good example is the best sermon.
Our warmest felicitations go out to Reverend Moon for his pio­neering work on the battlements of fundamental family values, and we wish him many more happy returns, with the incomparable Mrs. Moon by his side as his comrade-in-arms, in the vanguard of global moral and spiritual revival.