| | |
| --- | --- |
| | The Words of the Clarke Family |
Can Rev. Moon turn the world onto peace? - Americas summit promotes conflict solving
Petulia Clarke
May 15, 2008
Associate Editor
Jamaica Observer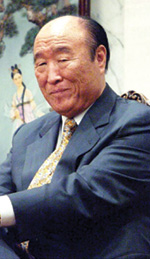 HIS message is simple - to foster a culture of peace which transcends nations, oceans and continents. He believes this is God's will, His desire to save humankind from evil and sin.
Rev. Sun Myung Moon's ministry has expanded in extraordinary ways since he received his calling more than 50 years ago in a remote South Korean mountain village.
With almost superhuman energy, Moon has devoted himself to the pursuit of peace, along the way establishing numerous organizations and foundations whose main focus have been world peace. These include the Professors World Peace Academy, the Women's Federation for World Peace, the Youth Federation for World Peace, the Inter-Religious Federation for World Peace, the World Media Association, the International Conference on the Unity of the Sciences, the Summit Council for World Peace and the Universal Peace Federation (UPF).
The South Korean religious leader has 'Ambassadors for Peace' in 185 nations, numbering tens of thousands, including in Jamaica, who are working by his teachings in recognition of a special decree from God for world peace. And when Moon, through UPF, gave the invite to leaders from Latin America, the Caribbean, North, Central and South America to converge in Washington DC, USA for a UPF Americas Summit and Leadership Conference from April 28-May 2, many heeded the call - some 160 persons in fact.
The group comprised high-level government officials, civil leaders, educators and leaders from faith-based organizations representing 32 nations -- a meeting of powerful minds to share the skills to conduct peace-building programs and activities in each of their countries. Among those participating were six former heads of state and government, four current speakers of the house, 27 congressmen and senators, and community, youth and women leaders.
That Moon was able to get the support of the group who attended the Washington conference is testament to the extent of his reach -- this is a man who has spoken with presidents and rebel groups and who has organized peace walks in war-torn countries.
The warm welcome he gets in America today is a complete turnaround for a man who spent a brief time behind bars there because of a minor tax offence many years ago when he launched his peace mission in the United States. Then, he was regarded as an outsider with a strange message.
The response at the recent America's summit was exactly what he had been hoping for -- a way for an extension of his message, providing support for the leaders there, in their efforts to address and resolve critical problems affecting them.
It may seem mammoth but here is the concept: UPF, established in 2005, seeks to build an alliance among individuals, educational institutions, religions, corporations, the media and governments for the sake of peace. UPF implements these programs through a global network of ambassadors for peace who have formed peace councils on the global, regional, national and local levels. The ambassadors are guided by the principle of living for the sake of others and are encouraged to, in their own little way and in their own part of the world, work to defuse conflict and promote peaceful living.
After the conference, those who attended in Washington were to return home, some as new ambassadors for peace, to commit to work for peace and human development.
UPF aims to encourage the unification between all nations based on the principles that people of every race, religion, nationality and culture hold in common. It was believed that the unity seen at the Americas summit would set an example for the rest of the world.
The Washington conference consisted of sessions on international conflict solving and the principles of leadership by various experts in their fields. The sessions were dedicated to promoting increased co-operation, development and peace among the people of the Americas and the Caribbean.
The summit included a day trip to College Station Texas, where participants met with former US President George HW Bush, who was cited as a man who, during his time, gave a welcome focus to the South and Central American region.
"The United States needs to stand up and work for peace in the world," Bush said in giving greetings during the visit. "It is a matter of conscience, not just a concept. We need better solutions for issues like poverty and immigration and to make sure that the successes of the past in the fight against drugs are not lost."
Among the other presenters at the summit were José de Venecia, former speaker of the house of representatives in the Philippines who said he accepted that peace building was not an easy task, especially when dealing with problems like the massive world hunger crisis.
"We want to commit ourselves to do this, it's beyond religion or colour of skin. We want to work together for universal peace," he said.
He cited the United Nations heads of government meeting in 2000 where it was agreed that all nations would work to reduce poverty by 2015.
"(But) no one is willing to finance this," he said. "The crisis with the global community is hunger and poverty and it continues."
He said that much of the income in the developing countries - and some 102 nations are regarded as very poor and all are heavily in debt - goes to servicing debt and offered a solution to meeting the 2015 target for all.
"All (the more prosperous countries) have to do is convert a portion of the debt into equity," he said. "Use the money owed to build houses, plant crops...allow 50 per cent to be converted into food production projects...those owed could be part owners. We're not asking for relief, we're asking for a conversion of debt into equity for anti-hunger, anti-poverty relief."
And said Moon: "I ask that you analyze the current state of affairs in the world closely...No small nation by itself can deal with (more powerful nations) and their economic, political or even military ambitions. Only when peace and security are settled can peace for all humankind be guaranteed. The small island nations by themselves cannot contend with the great tsunami of powerful nations moving into the region. The time has come for all these small nations to unite."
For his part, Hilson Baptiste, an Antiguan MP, offered up the Caribbean as an area diverse with culture and rich with trade and trade opportunities and told participants of the importance of recognizing the region for what it's worth when it comes to integration.
UPF holds that if the nations of the Americas can successfully lay a unified foundation based on shared values, they can demonstrate to the world a model of regional co-operation.