| | |
| --- | --- |
| | The Words of the Chiaia Family |
Unification Church will put Washington Times up for sale - Nicholas Chiaia
Ian Shapira
May 1, 2010
Washington Post Staff Writer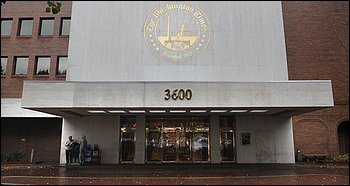 A Washington Times executive said officials "recently entered into discussions" about a possible sale.
(Katherine Frey/the Washington Post)
Washington Times executives are negotiating to sell the newspaper, after the Rev. Sun Myung Moon's family cut off most of the annual subsidy of about $35 million that has kept the Unification Church-backed paper afloat, company officials said.
Nicholas Chiaia, a member of the paper's two-man board of directors and president of the church-supported United Press International wire service, confirmed that the paper is actively on the market: "We recently entered into discussions with a number of parties interested in either purchasing or partnering with the Washington Times," he said in a statement to The Washington Post.
Current and former Times officials said one suitor has been the paper's former executive editor, John Solomon, who resigned in November 2009. Soon thereafter, they said, Solomon organized a group of investors to purchase the Times or launch a new multimedia outlet called The Washington Guardian. Times company officials said they are also in discussions with other potential investors.
Solomon, a former Washington Post reporter, declined to comment.
The negotiations follow months of turmoil at both the 28-year-old conservative daily and the business empire founded by Moon, 90, whose children are jostling for control over the church's myriad enterprises, which range from fisheries to arms manufacturing.
One of Moon's children, Justin Moon, who was chosen by his father to run many of the church's Asian businesses, has slashed the newspaper's annual subsidy, forcing the paper's executives, led by Moon's eldest son, Preston Moon, to search for deep pockets elsewhere. Meanwhile, the newspaper has hacked its newsroom staff by more than half, from 225 in 2002 down to about 70 people, raised the paper's price and deliberately shrunk its circulation to cut costs, shed its metro and sports sections, and fired or pushed out several top executives, including its publisher earlier this week. Several reporters said most of the staffers are seeking to leave.
The finances are so tight that the newspaper hasn't paid some of its bills or tended to basic maintenance issues -- such as hiring an exterminator to deal with mice and snakes sneaking into the building on New York Avenue in Northeast.
"The feeling everyone feels is that it's a totally rudderless ship," said Julia Duin, the paper's longtime religion reporter. "Nobody knows who's running it. Is it the board of directors? We don't know. There was a three-foot-long black snake in the main conference room the other day. We have snakes in the newsroom -- the real live variety, at least. One of the security people gallantly removed it."
Times editor Sam Dealey declined comment. Chiaia said he could not be interviewed until next week. (The paper's other director, Richard Wojcik, did not return a call.) In a written statement, Chiaia said the effort to sell the Times is "part of a strategic effort to ensure that the newspaper remains sustainable." He argued that the paper's struggles are no different from those of other news organizations and the Times "has improved its bottom line, compared to its position in November 2009, by around 50 percent."
The paper, however, has been struggling to pay off millions of dollars in debt, according to current and former Times executives who asked not to be named because they feared lawsuits or retaliation from their bosses.
The Times' circulation is also unclear. The paper stopped reporting to the Audit Bureau of Circulation in 2008, when the paper had circulation of 86,710 copies on weekdays and 37,259 on Sundays. (Chiaia said the Times, now published only on weekdays, has a circulation of 50,000, but Times executives said it's about 42,000, with fewer than 25,000 home subscribers.)
Justin Moon's move last July to slash the family's subsidy to the Times -- Rev. Moon has pumped about $2 billion into the paper since its founding in 1982, according to current and former employees -- occurred as part of a feud among the church founder's children. Last year, Preston and his younger brother Sean Moon issued memos claiming power over various portions of their father's global business empire.
Sapped of its major funding, Preston Moon last year ordered Times executives, led by then-president and publisher Thomas McDevitt, to make massive cuts. In November, McDevitt and two other executives were ousted. McDevitt declined to comment.
Since leaving the Times, Solomon, who helps produce Energy Guardian, a news service that reports on environmental and energy issues, has sought to buy the Times or start his own paper, according to Times officials.
Solomon tried to team with McDevitt and a group of investors to buy the Times, according to a senior-level Times official. But that group collapsed.
Solomon found another group of investors and approached the Times late last year about buying the paper, a senior Times official said. The offer was rejected as insufficient; Preston Moon told associates he would likely accept a bid between $10 million and $15 million, the official said. A Unification Church spokesman did not respond to a request for comment.