| | |
| --- | --- |
| | The Words of the Byrne Family |
A Center For The Education Of Life
Shawn Byrne
January 1981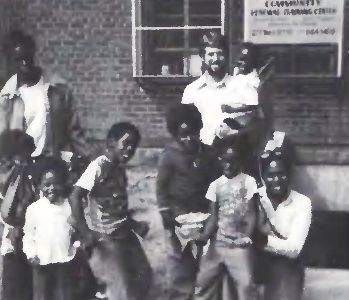 A series of nine public programs in Harlem began Shawn Byrne's new effort in developing educational activities related to the Divine Principle.
"I wanted to go to Africa as a missionary" explained the former Roman Catholic priest from Ireland, "but I ended up in New York." In his home church area in Harlem and in 120 Christian churches and community groups, he passed out leaflets inviting people to weekly programs on the topics of health education, employment information, family life and culture. Program format included a talk and discussion, followed by an educational film and refreshments.
To get advice, he contacted a well-known medical doctor in Harlem, who suggested a few people who might help him. Eventually, he found about a dozen speakers who gave their services free and even offered to come back. The films he obtained free from a library
"This was a shotgun approach," Shawn reflected. There was a wide variety of themes. For the meetings he rented a room in a government building, and attendance averaged 25-30, the majority of the people new each time.
The second phase of Shawn's long-term plan ("my 21-year course") calls for arranging for community centers or churches to sponsor short series of lectures on a single theme, such as health education or family life.
At a further stage, Shawn foresees an emphasis on "development of self through service to others," an idea he believes is central to the home church providence. He wants to establish centers for the education of life, with programs to facilitate the development of individuals, families, communities, nations and the world. "My aim is not just to teach the theoretical Principle, but to apply it," he affirms. "For instance, in the family component of the program, .o.'e can offer marriage counseling and teach child-raising." A further aspect of his work is developing slide and videotape materials.
Two-Week VOC Training
A special VOC training session has been added to the regular program of 21-day workshops and periodic 40-day international workshops held in the World Mission Center. Following this year's ICUS conference in Miami, 22 members arrived for intensive VOC training. The international participants in this program included the 12 regional directors of foreign missions of the Unification Church. The 35 participants in the current 40-day international workshop also studied in this new program.
Directed by David Hose, the program included two cycles of VOC lectures, given by Dan Fefferman and Michael Herbers, and world affairs lectures by Gerard Willis, FLF director; Bill Gertz, Rising Tide editor; and Ted Agres and Robert Morton of The News World. Outside speakers included Victor Herman, an American citizen who lived for 45 years in Russia, much of the time in prison camps. Father also came to visit the members and spoke to them about home church.
This training session was designed to prepare members to give lectures on VOC throughout the world.
Paintings planned for World Mission Center
Last February, four artists took over a wing of the 41st floor of the World Mission Center and transformed it into a studio, with the aim of creating paintings for the second floor of the World Mission Center.
Jan Parker of England, Shigeyoshi Watanabe from Japan, Carlo Zaccarelli from Italy and Jean Maxime Girard from France combine their international talents to inspire members through art.
They envision nearly 100 paintings hanging on the walls of the second floor balcony, grand ballroom entrance and balcony -- beginning with the creation and history of mankind, continuing with Father's life and work and culminating in the ideal world. Their work is still in its initial phase: preparing sample paintings for Father's approval. These studies are available for viewing in the evenings on the 41st floor.