| | |
| --- | --- |
| | The Words of the Byrne Family |
Scholarships for Students in Bangladesh, Zambia
Paul Byrne
April 2, 2009
IRFF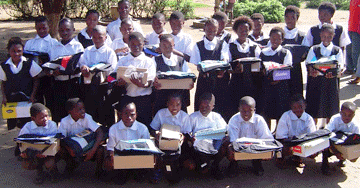 Early this year, International Relief Friendship Foundation (IRFF) chapters in Zambia and Bangladesh held presentation ceremonies for recipients of Supporting Success Scholarship funds. Both chapters invited the students receiving scholarships and their families to the local school for the ceremony, which was a joyous occasion for them all as well as for their very proud teachers and IRFF staff.
IRFF expresses its appreciation to the many donors who contributed to the Zambia scholarship fund through its GlobalGiving campaign.
In Zambia, where Supporting Success is in its third year, 25 students received scholarships. All 25 are alumni of the Mackenzie Community School, which is a free school, taught by volunteer teachers. It is the only school available to the children of the impoverished community of Mackenzie. These students are now attending the Dzikomo Basic School, a public school outside of the community whose fees prohibit virtually all children from Mackenzie from attending.
The Chairman of the Mackenzie Community spoke at the presentation ceremony, urging the families of the sponsored students to support them in their education and to reinforce the importance of education. A parent also spoke, thanking IRFF for the support they are providing the students and saying that their child would not have been able to continue his education without the scholarship.
In Bangladesh, Supporting Success is sponsoring its second class, providing 20 students with scholarships this year. The students in Bangladesh come from two primary schools -- Jaigeer Primary School and Utter Bakchar Primary School -- both of which are supported by IRFF. The sponsored students are attending three different high schools -- Joymontop, Union Council and Hazratpur Secondary Schools -- all of which are highly regarded in the area.
Several students who were receiving scholarships spoke at the ceremony in Bangladesh. Amir Hamja, who attended the 6th grade at Joymontop High School with a scholarship from Supporting Success last year and who received the highest grades in his class at his new high school, spoke about the fact that he is now more motivated than ever to finish his education and help his family. Helena Akter spoke about how much of an opportunity the scholarship was for her and about how she would not have been able to continue school without it.
Each recipient of a Supporting Success scholarship has their tuition for the year paid for and receives all the materials they need for a successful school year: a school uniform, shoes, books, a backpack, and all necessary school supplies. They have all now started the new school year and are on their way to further success.