| | |
| --- | --- |
| | The Words of the Byrne Family |
In Remembrance of Jin Joo Byrne
Christine Jones and John Chisholm, Charlotte Family Church
October 18, 2007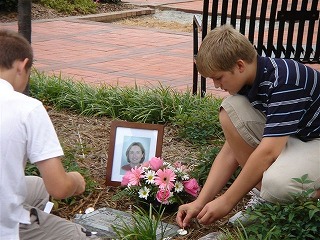 Five years ago an act of violence ended the physical life of Jin Joo Byrne while she was on a fundraising mission in Charlotte, North Carolina.
To commemorate her sanctity, bravery, and devotion to life's work, the FFWPU and Mothers of Murdered Offspring (MOMO) conducted a memorial service at Frazier Park near downtown Charlotte on Sunday, August 26th, 2007 at 11 am.
Attending this memorial service were Jin Joo's parents, who presented their message of peace and forgiveness to the family of Eugene Evans (the young man who attacked Jin Joo), to the Charlotte community and to the world at large.
The Byrnes, have participated in annual commemorative events since the death of their daughter and were interviewed by Beverly Dorn Steele of PBS as they sat together on the "Bench of Love and Forgiveness." The entire service was one of heartfelt warmth and the presence of Jin Joo's spirit unmistakably touched many of those present.
It was always our hope that we could establish a permanent memorial of a very personal nature for Jin Joo, a place where young people like herself could gather, reflect, and enjoy one another's company in the spirit of Jin Joo's sacrifice. Such a place had already been established in the form of a beautiful memorial park for children, by Jerry Mudge, a community leader and friend.
With the help of Judy Williams of M.O.M.O., Jerry Mudge and Jacob Reed of the Parks and Recreation Department, we were able to move Jin Joo's memorial plaque to this beautiful garden.
There are beautiful cast-iron benches throughout the park that can be purchased as a special memorial for loved-ones. (www.ocmw.org) It is our desire to purchase one of these benches in honor of Jin Joo, and place it near the plaque. There are two benches that have not yet been dedicated.
We would like to invite you to give a contribution towards the purchase of this "Bench of Love and Forgiveness." The total cost is $1,500.00. Any amount you can give is appreciated.