| | |
| --- | --- |
| | The Words of the Burton Family |
STF Provides Well-Rounded Development for College-Age Youth
Douglas Burton
February 22, 2011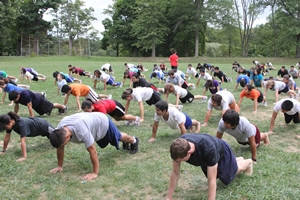 STF trainees participate in morning exercises at UTS Seminary in Barrytown, NY
The Special Task Force (STF), the well-known Unificationist character-education program, is continuously evolving to become the premier leadership training program for children of Unificationists after high school or during their college years. "Guided by Rev. In Jin Moon, we strive to provide, in one year, an environment conducive to a well rounded development: a life of faith, heart of attendance, Divine Principle education, international service, witnessing and fundraising experience, academic enrichment, Blessing preparation and more," according to STF Director Roland Platt.
"This year we have 150 participants. 110 are 1st years, 2nd and 3rd years serve as staff," Mr. Platt tells Familyfed.org. Enrollment for the coming year of STF 2011-12 is also now in process. For applications visit: www.STFfamily.com.
Youth participants typically are between the ages of 18 and 22. They experience three modules of education. One is an overseas service project that typically includes three weeks of on-the-ground service in a developing country. STF students this year helped construct a health clinic in Honduras, improve a community center in Costa Rica, and renovate an orphanage in Guyana. STF did other projects in Guatemala, Jamaica and St. Lucia.
STF Meets with Prime Minister of Guyana
Eunhwa Mouada, a second-generation leader of the STF team currently in Georgetown, Guyana reports: "All of us are growing and learning a lot. We met the Prime Minister of Guyana and the Mayor of Georgetown, who are both Ambassadors for Peace. The mayor was really encouraging the members to be fearless when it comes to what they believe is right and to not let other people influence their decisions."
Mouada also reports on the service project in Guyana: "We have done a lot of different kinds of projects so far. We worked at Joshua House [the orphanage] for a few days playing with the kids, painting, and making cement. We worked with the Hindu community cleaning up their temple (that has a huge picture of True Parents in it next to all their gods) and participated in their interfaith service. All the sisters had fun wearing traditional Indian saris (dresses). We ate with our hands, getting curry everywhere. We've been helping to build a Christian community center where some of our members tied steel together to create a foundation for the building." A second module involves supporting outreach programs such as the Learning Center in New York City or staffing church-related conferences. The third module is dedicated to character education through fund raising.
The STF program has taken on some innovations under Rev. Moon's guidance. "In Jin Nim sees STF as a vehicle both for building internal and external excellence," Platt says. In 2010, all participants spent many hours choosing colleges and preparing for the Scholastic Aptitude Test (SAT) exam. At the same time, the weeks spent doing outreach programs at the Learning Center in Manhattan included several outings with Rev. Moon herself, and her family.
Through her involvement and investment into the STF program, In Jin Nim is demonstrating her tremendous love, hope and conviction in the 2nd Generation," explains STF Director Platt.