| | |
| --- | --- |
| | The Words of the Burton Family |
Young Unificationists Step into the Limelight at "Arts Explosion"
Douglas Burton
June 23, 2010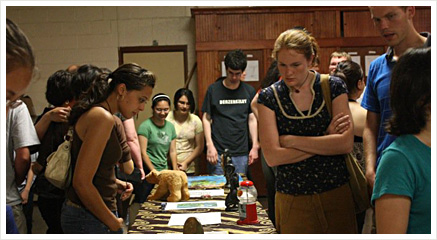 The printed program of "Limelight," a variety show staged by second-generation Unificationists at New Hope Academy on June 20th, boldly promised a "young adult and youth art explosion" -- a tall order to fill. But at the end of the night, not only had 300 friends and family survived the explosion, more than a few left bemused and a little stunned by the debut of real talent.
No fewer than four bands, a string ensemble, nine solo musicians, a film-maker, a break-dancer, and an assortment of graphic artists battled for loudest applause at the fundraiser for the Mission to Gambia, in West Africa. Gambia slides were introduced by Alysia Flynn, a veteran activist with the Gambian mission which has been providing health services and character education in that nation for 12 years.
Original Songs in Abundance
Six of the acts offered original compositions, including three high-schoolers who accompanied themselves on guitar. Sara Reddin sang "Time Machine," dedicated to her father (it was, after all, "Father's Day); Morla McCarthy, accompanied herself on her song "Hole," and also covered "Werewolf" by CocoRosie; Abi Goldberg, 15, introduced two songs, "Troubles," and "Spark." A recently-formed strings ensemble calling themselves "Gnarly Gnarwalls," introduced their song, "I'm Here for You," with Francis Marchitelli, 15, on guitar and vocals, Robert Abendroth, 15, on cello and Mark Adamson, 17, on bass violin. They got a big response from the crowd.
A band called "The Notebooks," including Shinyul Taylor, 18, on vocals, Matt Holden, 17, on drums, Ben Henkin 18, on guitar and Wongil Dadachangi, 22, on guitar, introduced the song, "Remember Georgia." Mr. Taylor explained that he wrote the song while a student at Blessed Teens Academy after interviewing a man who recalled how much he and his wife loved each other. The groups also did a cover of "Hey Soul Sister" by Train.
Stage Antics
Secondhand Band, formed 10 weeks ago, featured the vocals of George Burton, 21, Amiel Rodrigues, 21 on lead guitar, Jake Mas, 18, on bass guitar, Wongil Dadachanji, 22 on rhythm guitar and Matt Holden, 17, on drums. Burton introduced their song, "Get My Glow," a moody, rock reflection on mortality. Secondhand band also did a cover of "It Won't Be Long," by the Hives, in which Burton marched back and forth on stage, and at one point jumped onto the floor and lapped the gym before returning to the stage during a musical interval.
"The Manefraim," featuring Ben Henkin, 16, on vocals and guitar, Matt Holden on drums, and Wongil Dadachanji on guitar, did covers of Radio Head.
Heung Kook Stephens put his break-dancing artistry on display, accompanied by Secondhand Band. Jin Soon Stephens, playing her own guitar, did a cover of "Showstopper," by A.J. Rafael. Irion Hoffman Jenkins played the composition "Indigo" on keyboards. Laurel Halsey accompanied herself on keyboards and sang a cover of "Skinny Love," by Bon Iver. Teresa Wolinski sang "Superman" by Five for Fighting and accompanied herself on guitar as well. Kiara Rubin played two classical compositions on violin.
Video and Graphic Arts
During the intermission the crowd went upstairs for refreshments, and many took in several graphic-arts and photography projects of young Unificationists, including those of Tazuko Sugajima, Mitchell Henkin, Josh Flynn, Bryan Flynn, Hannah Hunter, and Renee Martinez. Two short films by the award-winning team of Sunjae Smith and Mie Smith were shown.
The Sunday Nights Light band (SNL), including David Moffitt on guitar, Arman Mizani on guitar, Clair Stein on guitar, Josh Degroot on guitar, and Arian Mizani on drums, performed the finale to great crowd approval. They performed "OK, It's All Right With Me," by Eric Hutchinson, "Don't Stop Believing," by Journey, "Falling Slowly," by Once, and "Wake Up," by Arcade Fire.
Kaeleigh Moffitt, the official Youth Minister of New Hope Family Church, was the driver of the Limelight project which was many weeks in the making. Mrs. Moffitt was assisted by Clair Stein, Alysia Flynn, Arman Mizani, David Moffitt and many other second-generation Unificationists.
"The evening was a great opportunity for the [Unificationist] kids to showcase their skills, and for many it was their first chance to perform before a crowd this size," according to Kaeleigh's spouse, David Moffit, who served ably as MC.
There is no doubt that the young artists were ready to make a statement about who they were, and what they represented, a sentiment evoked in the chorus of Abigail Goldberg's song, "Spark" --
"Let it out and let it shout and let it light the dark,
Let it spark and let it soar and let it make its mark,
And never let it go, and always let them know exactly who you are,
There's no use in pretending that you like it in the dark…"