| | |
| --- | --- |
| | The Words of the Burton Family |
Unificationists in Haiti Battle Dehydration and the Stench of Death
Douglas Burton
January 22, 2010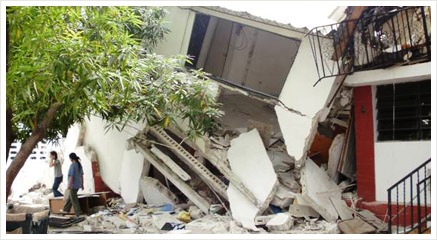 Unification Church members in Port au Prince, Haiti continue to camp on the lawn behind the collapsed church center and are suffering from dehydration and lack of food, according to the Reverend Theodule Paul, the Haitian church leader. Reverend Paul writes in an email on Jan 19, 2010 that "seven days after the earthquake, we are still waiting for some help from the government or international community." "We are about 100 people living in the yard of Unification Church with nothing: no water, no foods, no blankets, no tents, and we are breathing death. Our place is like a huge cemetery, children are crying but parents can not do anything," he wrote in a posting on the Facebook group Helping Unification Church in Haiti, created by Rev. Michael Lamson, district director of Unification Church U.S. District 6.
"We only listen on radio that help has come but we see nothing, the coordination is not made well. People must fight in order to find food or water. We are living with many injured people who are also suffering from [lack of food and water]. We do not have electricity, many of us [could] not take a bath since that tragedy, we are breathing all kind of thing[s.] Particularly, we are breathing the death," Reverend Paul continued.
Reverend Paul, the national leader, his wife Fugiko, and their three children were in the center with other members when the quake hit, seriously injuring Reverend Paul's six-year-old daughter, Theothane, according to Rev. Lamson's posting on Facebook: "When the quake hit, Theothane ran into the room where her mother was with their newborn daughter. [Fugiko] ran out of the house with their infant during the quake but one of the walls fell on Theothane. Rev. Paul was able to escape with other members and his three-year-old son, Theothile. It took rescuers more than an hour to dig out Theothane who was bleeding from her head and eyes. The Japanese Embassy helped to relocate Fugiko, Theothane and their newborn daughter to Dominican Republic."
The International Relief Friendship Foundation (IRFF), whose chairperson is Dr. Hak Ja Han Moon, wife of the Reverend Dr. Sun Myung Moon, began relief efforts immediately after the quake. Unificationist Richard Sapp, IRFF Director of Disaster Services in Jacksonville, Florida is assisting to ship a 20-ft. container of medical supplies that are expected to arrive in Port au Prince by ship on February 2nd. Mr Sapp is the logistics coordinator for IRFF, which partners with Christian Disaster Response. According to an emailed announcement, "IRFF's immediate goal is to raise $7,500 to ship three container loads of already-donated food and medicine to the port city of St. Marks, not far from the devastated capital of Port-au-Prince. IRFF, founded in 1979 with the support of Dr. Hak Ja Han Moon, is a partner organization of the Global Disaster Response Network, which has 12 non-profit organization members. The group already has representatives on the ground in Haiti, who give daily assessments of the situation and the immediate needs there."
Dr. Ron Patterson, the executive director of Christian Disaster Response, tells familyfed.org that his group is willing to charter a plane to land directly in Port au Prince with food and water, but that such an effort would require a minimum of $30,000 of cash donations. "The Unification Church members will be assisted and will be put to work to distribute the food and supplies," Dr. Patterson said. He added that he worked successfully with approximately 100 Unification Church members to distribute humanitarian relief following hurricane Katrina in 2005 with volunteers in New York after the 911 attack.
"Further plans to assist in relief efforts will be implemented later based on securing additional funding," according to Mr. Sapp, , "but the immediate need of survivors is food and medical treatment, which, with your help, we can deliver right away." Supporters of IRFF can donate through its website or by sending a check to the IRFF Administrative Office: 880 Rt. 199, Red Hook, NY 12571.
Apart from Rev. Paul's daughter, other Unificationists in the Headquarters (HQ) of the Unification Church in Haiti escaped the tragic earthquake of Jan. 12 without fatal injuries, according to unofficial emails from church members in Santo Domingo, Dominican Republic.
"We learned that all the members who lived in the HQ in Port au Prince survived the earthquake. Our HQ unfortunately was almost completely destroyed. During the earthquake the second and third story collapsed on each other. The members who stayed on the ground floor escaped into the open and jumped into the nearby swimming pool which contained no water," according to a German missionary in Santo Domingo. One child in Haiti was injured, according to the Unification Church HQ in New York, citing as the source one of the top missionaries to Haiti. According to the same source, at least three buildings belonging to members collapsed.
Two blessed families, the national director and his assistant, five second-generation and some members were in the headquarters at the time of the quake. The Japanese Embassy reportedly has assisted to transport the two families to Santo Domingo, since both the national leader and his assistant have wives who are Japanese citizens. They are expected to temporarily live in the church headquarters in Santo Domingo for the foreseeable future.
Ms. Diesa Seidel, a second-generation Unificationist (daughter of Dr. Dieter Seidel), was in Port au Prince at the time of the earthquake and was implementing a girl's empowerment program at the Haitian Academy, according to John Gehring, a Unificationist in New York. Since the quake, Ms. Seidel has worked with the medical staff at the Academy to assist local victims, Mr. Gehring wrote in an email to Familyfed.org. The academy is both a boarding school and a medical clinic located 15 miles outside of Port au Prince, and is operated by Dr. Marie-Pologne J. Rene, a longtime Ambassador for Peace of the Universal Peace Federation.
Dr. Rene has hosted numerous Unificationist-related programs including Religious Youth Service, IRFF, and a Second Generation Service camp. In the week preceding the quake, she hosted a United Initiative for Peace/Sports for Peace project led by Ms. Seidel. "For the last decade, the Haitian Academy has integrated the Unification Movement's character-education insights into its education program," reports Mr. Gehring. The Haitian Academy, located 15 miles outside of Port au Prince, has the only medical facility in the area. Dr. Rene reports on her website (where you can also make an online donation) that the majority of the boarding-school children, supervisors, University boarding, patients, and guests are camped out on the soccer field near their damaged school. The patients in the clinic also are sleeping outdoors on the academy's lawn where they continue to receive medical care.
"We treat the patients with the medicines that we have, but are unable to purchase more. Every day we send a team to the airport and to the Health Department in search of medical supplies in order to keep our medical services available. We are getting ready to receive some tents, from which we will continue to serve the injured and wounded from Cabaret, Arcahaie, Port-Au-Prince, and the Minoterie factory (Les Moulins D'Haiti), " Dr. Rene reports on the Haitian Academy website.
Unificationists in the United States quickly responded to the crisis by organizing fundraising drives. The Unification Church Headquarters announced on January 15: "Funds are needed to help the members rebuild their homes, to repair damage to the church center, and to give general support to the members and their families. We are currently accepting donations online, via credit card or Paypal account, and checks mailed to the national headquarters office in New York. 100 percent of donations marked 'Haiti Relief Fund' will be sent to the Haiti Unification Church headquarters. Once we have helped members in Haiti stand on their own two feet, they will be enabled to provide greater help for others in their communities."
The appeal requested that members send checks to the following address:
HSA-UWC Financial Office
481 8th Ave. 30th Floor
New York, NY 10001
On Monday, January 18, 21 pastors and community leaders affiliated with the American Clergy Leadership Conference (ACLC) chapter in New York held an extraordinary meeting of Haitian pastors and their congregants at the Christian Times Building in Brooklyn to support the relief efforts for Haiti. Co-Chairman Bishop Cecil Riley and Pastor Dr. Dennis Dillon of the Brooklyn Christian Center joined with key pastors in Brooklyn, New York to organize the event. An emailed announcement from ACLC reported an effort to gather funds, medical supplies and medical professionals.
In Washington, D.C., the ACLC and the Haitian Community held a relief rally on Monday night at Union Temple Baptist Church. Archbishop George A. Stallings and Rev. Willie Wilson were reported to be the hosts for this event.
A fundraising campaign for Haiti Unification Church members, organized by members in Unification Church U.S. District 6, and promoted via the Facebook group Helping Unification Church in Haiti, served as inspiration for the current fundraising campaign of the Unification Church national headquarters.