| | |
| --- | --- |
| | The Words of the Boudreau Family |
CAUSA-USA Seminar
Donna Boudreau
October 15-19, 1984
World Mission Center, New York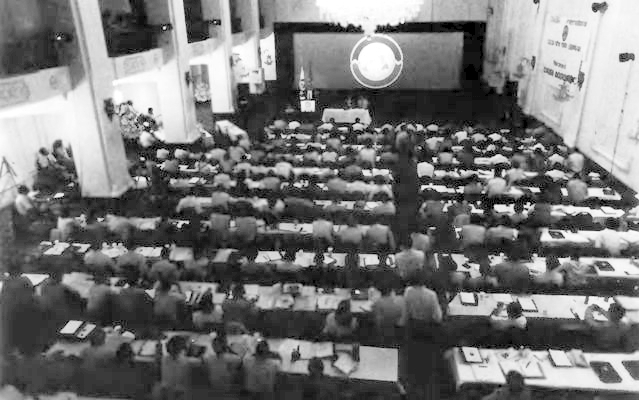 Two hundred eighty city, state, and regional leaders gathered in the Grand Ballroom of the World Mission Center on October 15-19 for four days of intensive training by CAUSA-USA staff. The training consisted of multimedia presentations demonstrating the fallacies of Marxist-Leninist theory and giving an overview of its ideological alternative, the CAUSA worldview. The participants were treated to an outstanding array of guest speakers, including Rev. Greg Dixon from the Coalition for Religious Freedom.
In response to Father's desire to educate ministers beyond religious freedom issues, CAUSA plans to hold five seminars in each state by December. The CAUSA Ministerial Alliance (CMA) was formed to conduct the seminars, and it hopes to build a solid foundation for the future fulfillment of Father's desire for an awakening in America to the threat of communism. The city and state leaders who attended came to learn the content and format of the CAUSA presentations.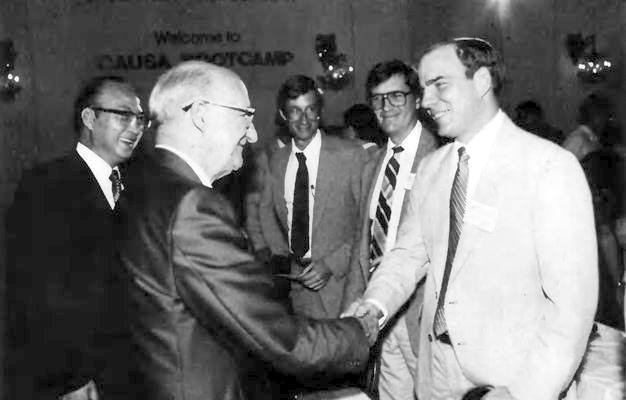 Dr. Cleon Skousen of the National Center for Constitutional Studies greets Tom McDevitt, while Col. Pak, Matthew Morrison and Michael Beard look on.
Opening Ceremony
The CAUSA seminar opened with remarks from the president of CAUSA-USA, former U.S. Air Force General E. D. Woeliner. General Woellner had been a former prisoner of war in Germany during World War II, and through observing the brutal behavior of his Russian "liberators" he came to clearly understand the dangers of communism. He explained the need to reawaken America and added that, "the direction established by Rev. Moon in the application of the CAUSA worldview can indeed give new hope to peoples of nations devastated by communism and it can be the basis for redefining and rejuvenating the will of the American people."
Following General Woeliner were Philip Sanchez, former U.S. ambassador to Honduras and Colombia, and Rev. Hartley W. Leacock, minister from All Faith Christian Church in Queens, New York. Mr. Sanchez has been working very closely with the Hispanic community in America and has been inspired by the idea of redefining world leadership. He said he feels that there is a "unifying force, a unifying vision, a unifying idea in this world that transcends borders and transcends religions." Rev. Leacock moved the participants with the testimony of his experiences in meeting our movement for the first time. In comparing himself to the Apostle Paul, who was suddenly converted to Christianity on the road to Damascus, Rev. Leacock shared how he changed from "Christian bigotry" toward Father and our movement to a deeper understanding of the insight and role of Rev. Moon as a modern-day prophet. "Did you know," he said, that home church is a revelation from God?"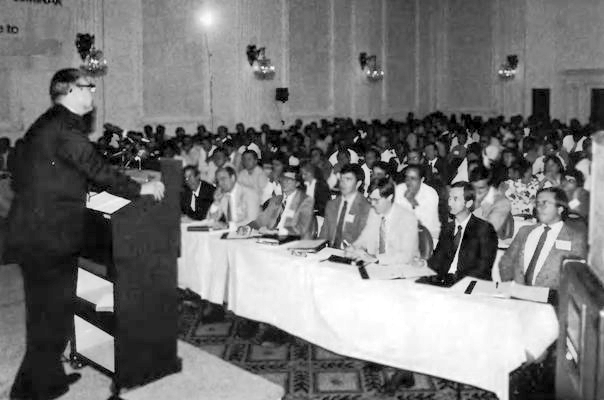 Col. Bo Hi Pak addresses the audience.
Marxism Versus the CAUSA Worldview
The training began immediately following the opening ceremony. Seven presentations were given each day, and the schedule began at 7:00 a.m. and continued until 10:00 p.m. Topics such as "Marxist Economics," "Dialectical and Historical Materialism," and "Confusion in the Western Value System" were presented by two lecturers, Mr. Tom Ward and Mr. Bill Lay.
Participants had a chance to practice and present the CAUSA material throughout the training, showing that upon the foundation already established by the work and sacrifice of CAUSA members, anyone can become an excellent CAUSA lecturer.
The presentations exposed the lies underlying Marxist-Leninist proposals and offered insight into the problems that people in the West, Christianity in particular, face in dealing effectively with communism. The CAUSA worldview as an ideological alternative was presented by Col. Bo Hi Pak. "We must fight fire with fire," Col Pak explained. "A false ideology can only he defeated by a superior one." Based upon the Principle, the CAUSA worldview will ignite a quiet revolution of heart.
The presentations were given in two- day cycles, each followed by an examination. Participants eagerly listened to the presentations and quickly learned about Marxism-Leninism, as evidenced by the amazing number of people who scored above 90% on the test. CAUSA-USA gave slides and videotapes to help the newly trained and inspired CAUSA lecturers.
Well-known and Well-loved Speakers
The week would not have been complete without inspirational messages from several well-known and well-loved speakers. Dr. Clem Skousen of the National Center for Constitutional Studies, who was one of the first to file an amicus curiae brief on Father's behalf, shared about his vision and work to reaffirm America's heritage. God had moved Dr. Skousen to this destiny in 1971, the very same year that Father came to America. Dr. Skousen said, "When I think of this land [the people are] lost, wandering, perplexed. Then I look into your faces. You know where you're going. You know what you have to do. You know that you live in a time of divine destiny, and I congratulate you for being here, for having made this pilgrimage."
Dr. Joseph Churba, formerly a senior advisor at the Pentagon, and Mr. Terry Dolan, presently chairman of the Conservative Alliance, spoke on the U.S. military and political situation. Dr. Churba is concerned mainly about the national security of America, and he shared his views on the current arms race that is destabilizing the global quest for peace. Mr. Dolan explained the role that the Conservative Alliance tries to play in providing adequate and unbiased information and polls to the American people.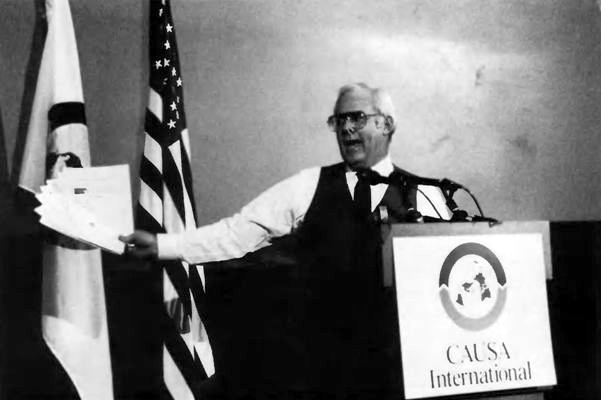 Dr. Don Sills reports on the response to the recently televised "Assault on Freedom."
Tremendous Response to "Assault on Freedom" TV Production
Spirits were high by Thursday night, and the trainees were very happy to welcome two champions of the religious freedom movement, Rev. Greg Dixon and Dr. Don Sills. Both of these freedom fighters were deeply moved by Father's vision to revitalize and restore America's heritage. They were involved with a television production entitled
"Assault on Freedom," which covers five cases of the abuse of religious liberty in America. The film, which shows actual footage of Father in Danbury prison and his testimony before the Senate hearing in Washington DC, has received tremendous response in the five cities in which it has been shown. Thousands of phone calls from people asking for literature and pledging support and money have shown that the sacrifice and efforts to awaken America have not been in vain. One hundred thirty churches have asked for copies of the film to show to their own church communities.
Rev. Greg Dixon expressed his new hope for the religious liberties movement since he made contact with the Unification Movement (see page 29). In his heart, he said, he has never given up: "But in my head, I really didn't think we could win. That was before I met this crowd...before I met Rev. Moon." Each member of the Unification movement can be proud to work side by side with such great men of God as Rev. Dixon and Dr. Sills.
American People Working Together
Certainly the work in America has just begun to bear fruit. At the tremendous sacrifice of our True Parents, the age-old dream of all humanity is beginning to be realized. Through the religious liberties movement, Christians can move closer to establishing unity with each other. Through the work of NCCSA, churches in America can begin really to serve the nation's people. Through the ICC conferences, ministers can gain insight into God's providence and into the depth and vision of our Father. And now, through CAUSA, the American people can work together to defeat communism at its ideological roots for the sake of God and humanity.
Col. Pak shared that "CAUSA is more than anti-communism. Nothing short of the liberation of communism is CAUSA's goal. Moscow is our go not for conquest, but for liberation. CAUSA is a global movement, yet today we are putting our entire effort into the United States of America. Why? The United States of America holds the key to the future of the entire world."
Graduation was held on Friday, October 19, and church leaders gathered to discuss spreading this message to ministers. After four days of intensive training, participants had a chance to share with each other about ways of implementing and incorporating the CAUSA worldview into the work that is being done in each region.
A banquet was held for all the participants, and a videotape prepared by CAUSA was shown depicting Father's life and his fight against communism. All those who attended felt better equipped, not only with an understanding of VOC theory and VOC work, but with renewed hope and inspiration to advance the providence of God toward fulfillment of the original ideal.
As one participant, John Didsbury, wrote, "I see the sun rising over America. It is a sprouting seed; a vision of the American people Working together to save the world. A spiritual weapon has been given to me."
The CAUSA worldview is an idea whose time has come.