| | |
| --- | --- |
| | The Words of the Alcayaga Family |
Barangay Federation for World Peace- Philippines Launched
Roland Alcayaga
November 13, 2007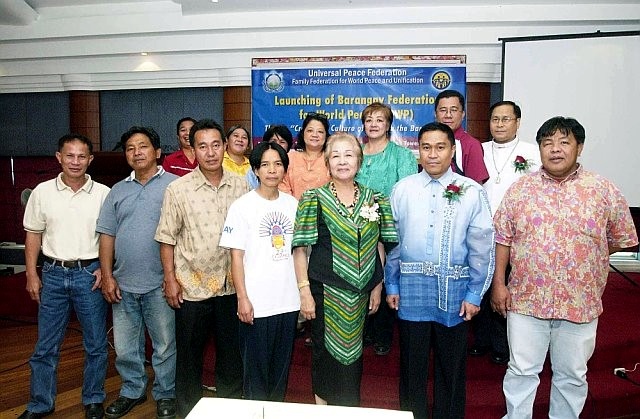 Universal Peace Federation (UPF) is a global alliance of individuals and organizations dedicated to building a world of peace, a world in which everyone can live in freedom, harmony cooperation and co-prosperity for all. The core objectives of the Peace Federation include the promotion of: The reform and strengthening of the United Nations and its Economic and Social Council Partnerships among governments, religions and civil society. And a culture of peace through education, sports, arts, media and service Inter-religious cooperation Conflict prevention and resolution Strong, loving family life.
The UPF International was successfully launched in New York last September 12, 2005. It was followed by a series of World City speaking tour by the founders Rev. Dr. Sun Myung Moon and Dr. Hak Ja Han Moon. On December 1, 2005, UPF Philippines was launched at the Manila Hotel attended by more than 5000 audience.
It was followed by more series of assemblies held in various locations nationwide, the major events being held at the Makati Shangri-La Hotel and at the Araneta Center. These events were attended by VIPís representing various sectors of our society including the hundreds of Barangay Captains and Barangay officials. Centering on this foundation, BFWP was organized and eventually was launched sponsored by the Universal Peace Federation and the Family Federation for World Peace and Unification Philippines.
The Philippines has a total population of 85.23 M (2005 census) with a total of 41,982 barangays nationwide. A barangay is the smallest local government unit in the Philippines headed by a Barangay Captain.
Report on the Launching of Barangay Federation for World Peace
Name of Activity: Launching of Barangay Federation for World Peace
Theme: Institutionalizing the Culture of Heart in Every Barangay
Venue:: City State Tower Hotel, Malate, Manila
Date: February 10-11, 2007
Participants: 35 Founding members
33 Founding Barangays
Organizer/Sponsor: Universal Peace Federation
Family Federation for World Peace and Unification
Summary
On February 10-11, 2007, a two day seminar was held for the barangay captains who shall become the founding members of BFWP. During the first day, the Opening program started at 2:30 pm with a doxology by Bishop Elias Soria. The opening remarks were delivered by the Unification Movement National Leader Dr. Michael G. Zablan. The Hon USec Josephine DC Dominguez, from the Office of the Presidential Liaison Officer for Political Affairs graced the occasion.
The opening program was immediately followed by the lecture presentation of the UPF Principles of Peace and Principles of Creation by Dr. Edgar T. Tanate. The participants were so inspired during the lecture and immediately they wanted to have copies of the presentations. The video presentations "Man of Peace", "A Giant Step Towards Universal Peace" and "Heart to Heart" were shown which moved the hearts of the participants.
The following day, Dr. Federico V. Niduasa presented lecture on "The Cause of Human Conflict and Conflict Resolution" and "Culture of Heart". Dr. Niduasa was warmly applauded with standing ovation by the participants lead by USec Dominguez.
In the afternoon, Dr. Michael G. Zablan presented a PowerPoint presentation on the different projects of the affiliate organizations of the Unification Movement.
Dr. Zablan presented the proposed organizational structure of BFWP, and with the guidance of USec Dominguez, it was agreed that 15 Board of Directors be chosen among the 39 founding members. The 15 Board of Directors elected their set of officers for the year 2007-2008.
From the 39 founding members, There were 23 new Peace Ambassadors and 33 founding barangays nationwide.
The Launching was spearheaded by USec Josephine Dominguez by hitting the gong. It was followed by a prayer lead by FFWPU President, Dr. Jaime O. Vergara which was immediately followed by a Toast of Victory. The officers will soon have their induction.
All the participants left with their hearts filled with hope, inspiration and determination to take part in restoring this nation.
Barangay Federation For World Peace 2007-2008 Officers
Chairman: Romeo Mayorga Brgy. Parang, Marikina
Vice-Chairman: Teodulfo Lao Jr Brgy. Lapasan, Cagayan de Oro City
Secretary: Romeo Escaros Brgy. Sto. Nino, Dasmarinas, Cavite
Treasurer: Noel Agdeppa Brgy. Quirino 2A, Quezon City
Auditor: Buen dela Cruz Brgy. Kalipayan, Sta. Ignacia, Tarlac
Pro: Armando Endaya Brgy. Bagong Silanagan, QC
Jonathan Blando Brgy. Lagao, General Santos City
B-Manager Wilfredo Valdez Brgy. Caanawan, San Jose City, N.E.
The participants were given the opportunity to express their reflections and realizations:
"I learned that I have a responsibility in the community to change the culture in our society"
Kag. Norby Tano Flores
"This information we should share with our constituents. It is not what government can do for us but what we can do for our government, we cannot be effective if we say to our children not to smoke if they see us smoking".
Kag. Jonathan Blando
Lagao, Gen. Santos City
"If all of us should make an ordinance or law that every family should undergo values formation, why donít we share everything that has been taught to us since yesterday, maybe all of the problems in community will be solved, it will disappear.
Kag. Teodulfo Lao Jr.
Lapasan, Cagayan de Oro City
"Based from what I heard since yesterday, we at Marikina City has been tagged as having the "Most" (awards), Cleanest City, Most Impressive, Most Improved City if not here in the Philippines, in the world. It seems that everything is already complete, but once I got seated, and Mr. Zablan started (to speak), something is lacking, so much is still lacking.
We are so glad of what we have heard, how much more if representatives from low level barangays can hear or attend such kind of forum? I can see the launching of Barangay Federation, perhaps one of the things that I will do (is to include) in my radio program at DZBM, Iím a broadcaster and I have worked with Bayani Fernando for a long time.
Many are called but few are chosen. We are very lucky to hear this forum, this is what we need in our barangay. In the future we will not find it difficult to let the people follow."
Mr. Romeo Mayorga
Parang, Marikina City
"Among the so many seminars that I have attended in Luzon, Visayas and Mindanao sponsored by DILG and the League of Barangays, (this seminar) it is now that I have appreciated (a seminar) so much because this is totally different (unique). I have no idea how far UPF has gone thru in spreading this kind of education, "Creating a Culture of Heart". Perhaps it would be wonderful/great if we could have connection with our government agencies especially among the head officers of different agenciesÖ perhaps in order to expedite the educational program we can have this (program) tied-up with all our national leaders, provincial, municipal up to barangay (level) with the help of the UPF delegates because Iím so inspired with our great speakers. And (now) I appreciate that there are people like them who would share this knowledge and if possible to the whole nation."
Kag. Wilfredo Valdez
Brgy. Caanawan, San Jose City, Nueva Ecija