| | | | |
| --- | --- | --- | --- |
| | Other Unificationist Publications | | |

Discovering the Real Me: A Student Textbook in Character Education
January 5, 2006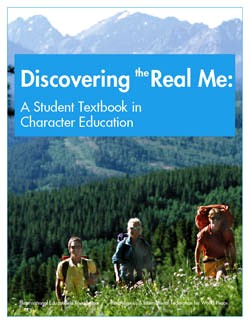 Download the Student Workbook (PDF)
Download the Teacher's Manual (PDF)
The Discovering the Real Me series represents a unique collaboration of an international team of educators and writers. The original versions, appearing under the titles My World and I (Russian) and My Journey in Life (English), are the foundational texts for this book, Discovering the Real Me: A Student Text Book in Character Education.
Founded in 2000 by Dr. and Mrs. Sun Myung Moon, the Inter-religious and International Federation for World Peace is a global movement, led by a worldwide network of Ambassadors for Peace from all professional fields, who, transcending barriers of race, religion, nationality and culture, pursue lasting peace for all humanity, through a life of service to others. IIFWP sponsors a wide range of programs that include seminars, service projects, publications, sports activities and educational projects. The Discovering the Real Me: A Student Workbook in Character Education, is a central element of the IIFWP character education initiative that is being implemented in many countries around the world.
The International Educational Foundation was founded by Dr. and Mrs. Moon in 1990 to promote moral and ethical values in education. Since that time it has published many textbooks and other educational materials in several languages for various age levels, while conducting countless conferences for scholars and educators and training workshops for teachers throughout the world.
Character education is most effective when it is a comprehensive, intentional effort of family, school and community working together. Character is affected by and affects all these interwoven levels of human existence. Good individuals form and are formed by good families, good families make up vibrant communities, vibrant communities comprise a healthy nation, and healthy nations create peace in the world.


Download entire page and pages related to it in ZIP format


Table of Contents


Information


Tparents Home