Reverend Moon visited Seoul together with Mr. Yo-han Lee, and met with Mr. Hyo-won Eu who had been leading a dedicated spiritual life. They discussed the founding of HSA-UWC. Those participating at that meeting included Reverend Moon, Mr. Hyo-won Eu, Mr. Hyo-min Eu, Mr. Sang-chul Kim, Mr. Chang-hwan Lee, Mr. Jung-hwa Park, and Mrs. Hyun-shil Kang.
Mrs. Yun-young Yang, who was teaching at Ewha Women's University, joined the group and the meeting place was moved to the so-called Three-door House at 391 Bukhak-dong, Seongdong-gu, at which address the HSA-UWC would be formally registered later that month.
Here, Reverend Moon consolidated the spiritual foundation for the establishment of HSA-UWC, and mobilized the spiritual world to help. Finally, on May 1, 1954, HSA-UWC, the historical legacy of which was to continue from generation to generation, was officially established.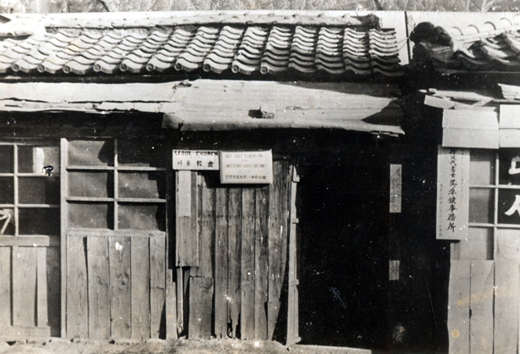 By that time, church meeting places had already been prepared in Pusan and in Taegu, and core members included (men) Won-pil Kim, Yo-han Lee, Bong-woon Lee, Su-kyung Lee, Hyo-won Eu, Hyo-young Eu, Kwan-sung Kim, Ki-ju Song, Chang-hwan Lee, and Sang-chul Kim (who later became known as David S. C. Kim), and (women) In-ju Kim, Se-hyun Oak, Dal-ok Chung, Seung-do Ji, Hyun-shil Kang, Jae-san Kim, Duk-sam Lee, Young-choon Oh, Soon-hwa Choe, Soon-chul Kim, Myung-hee Kim, and Yun-young Yang.
It was a time when the foundation of faith of these members had developed strongly. Since their course had been difficult, even to the point of having to risk their physical lives, members were filled with the conviction of being able to overcome any kind of suffering and hardship. Reverend Moon appointed Chang-hwan Lee to the position of the first president of the HSA-UWC. Later, in August, with Mr. Hyo-won Eu installed as the second president, the church was restructured.