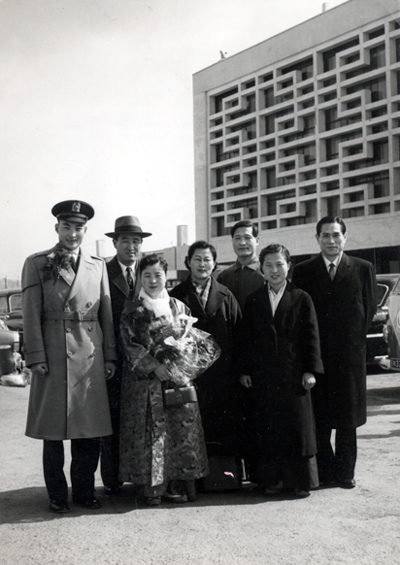 Having taken the opportunity to instigate vigorous missionary activity across the country following the completion of the winter pioneer-witnessing activities, the church turned its attention to the world. The first such mission undertaken by a Korean was the official posting, in June, 1958, of Mr. Bong-choon Choi as missionary to Japan, a nation having no diplomatic relations with Korea. He established the church in Tokyo on October 2, 1959, sixteen months after his arrival, after experiencing many hardships including imprisonment. On January 2, 1959, Miss Young-oon Kim was sent as missionary to the United States, and in September of the same year Mr. Sang-chul Kim followed her. Thus began the world-level mission.
On February 25, 1961, Col. Bo-hi Pak was appointed assistant military attaché to the Korean embassy in the United States. He was assigned as a missionary by the church.
Furthermore, on October 2, 1959, the Unification Church was officially established in Japan, and on February 1, 1960, with the opening of the Unification Church in St. Helens in the United States, the foreign missions to Japan and America were firmly established.