The tragic division of the Korean Peninsula can be compared to the body of a living creature that has been cut and is bleeding. A comprehensive solution is prerequisite to the advancement of the history of the Korean people. Yet, the truth is that as time goes on the schism between the two Koreas becomes more serious and the valley of the "cold war" between the two becomes deeper.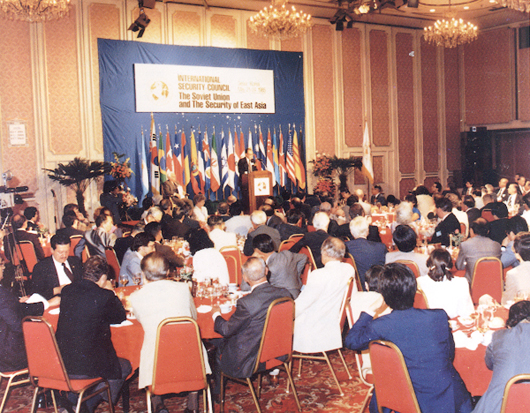 Despite persecution on the political level, Reverend Moon has struggled alone against God-denying communism. To that end, on this Korean peninsula which has been ruled by confronting left and right wing ideologies for the forty years since independence from Japan, he founded the International Federation for Victory Over Communism (IFVOC) in 1968, and, during the 1980s, established the Citizens Federation for the Unification of the Fatherland based on "Head-wing" ideology which transcends both left and right-wing thought.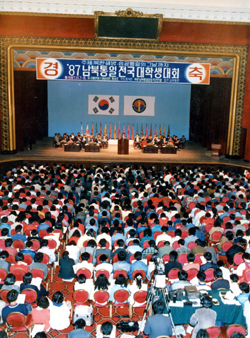 Through the Citizens Federation, Reverend Moon began to educate an ideologically confused people regarding the maintenance of political stability after reunification. Inaugurated at the Little Angels Performing Arts Center on May 15, 1987, the Citizens Federation has been in the forefront of the movement for reunification, gaining approximately ten million members in the ensuing year.
In order to expand the movement for the unification of the Korean peninsula into a worldwide movement, Reverend Moon also established the Citizens Federation for the Unification of East, West, South, and North (in Japan), the Citizens Federation for Freedom and Unification (in America), and the Citizens Federation for the Unification of East and West (in Germany).
He has clarified that the only way to liberate the world from this war of ideological confrontation is to liberate oppressed people by establishing a worldwide movement for freedom and peace through Godism, otherwise known as "Head-wing" ideology, representing the ideal that humankind are brothers and sisters under one God, and through God's name and sovereignty.