New staff for the Admissions Office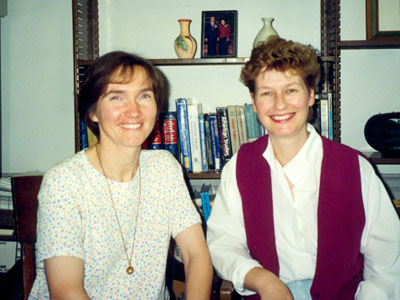 In June, UTS welcomed two new staff members to the Admissions Office. Mrs. Gillian Corcoran (Class of f85) has been living in the area since 1996 when she and her husband Chris (Class of f86) returned here from Texas to be near to Chrisfs home town of Rhinebeck. While living in Texas, they were both active in ACC and have attended the recent conferences in Washington D.C.. Chris is now Director of Public Relations at the New York headquarters of the Family Federation. Gillian has taken over the position of Director of Admissions left vacant by the recent departure of Mrs. Hong Yu Kovic.
Mrs. Paivi Yoshizumi, who will assist Gillian in the Admissions Office on a part-time basis, is the wife of the Dean of Students, Mr. Tetsuo Yoshizumi. She arrived in the U.S. in June 1997 after living in her native Finland for three years with their three children. Before that, she was a member of U.S. CARP and gained her Regents College Degree while working with Chicago CARP in 1994.
PHOTO: Paivi Yoshizumi and Gillian Corcoran