Oil Tank Removal and Replacement
"Look what we found! An 8000 gallon oil tank is removed from the ground near the Massena House."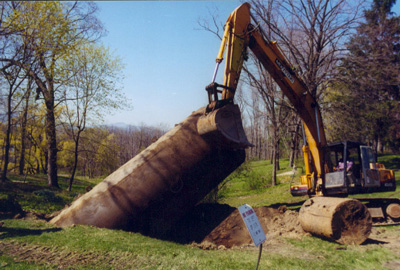 In order to comply with a direction of the Department of Environmental Conservation, UTS removed five oil tanks in April at a total cost of $90,000. The DEC order applies to all below-ground oil tanks throughout the nation and all removals must be completed by the end of 1998. UTS Plant Director Jonathan Brundrett worked closely with a local engineering company to ensure that the removals complied with the DEC's strict regulations regarding soil-contamination. New tanks have been installed in the basements of the Massena House and the main building.