God's Day in Uruguay
It rained for two days and Father said it symbolized the unity of heaven and earth. The 700 participants huddled in tents like refugees and Father said that's just the way it should be - like the prophets of old, he urged his followers not to become weighed down by houses and possessions but to always be ready to respond to the word of God. Be determined, he said, not to be dominated by anything, and for the duration of the five day gathering on the coast of Uruguay, he led by example, speaking passionately for up to eight hours at a time, despite the rain and the failing sound system, to church leaders from every corner of the Earth.
The purpose of this five-day meeting was twofold; to celebrate the November victory of the 40 million couple blessing and to make a determination for the blessing of 360 million couples in 1998. That huge event will clearly be the focus of this year just as it is the focus of the yearly motto: "To be proud of and love True God absolutely is to complete the 360 million couples Blessing and eradicate the blood lineage of the satanic world." Father emphasized the importance of reading his past sermons at the start of each day and particularly emphasized a sermon he delivered in September 1970 in Seoul titled "What We Should Do in Our Lifetime." (This speech can be found in God's Will and the World) If you read this speech, he said, then you will have a clear direction for your life.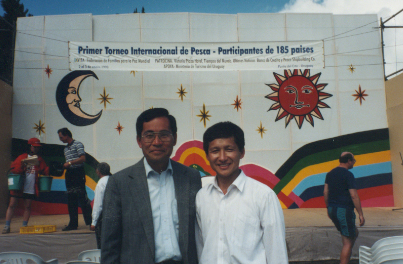 During the conference, Reverend Moon delivered 10 sermons of up to eight hours in duration. These were interspersed with games on the beach and, of course, a fishing tournament, this time limited mostly to surf fishing, although a few lucky souls went out on boats. Father's personal devotion to fishing was demonstrated by his own 33 rods which were manned 24 hours a day!
UTS was represented at this historic event by President Shimmyo and Reverend Taek Yong Oh and they were pleased to hear Father extolling the virtues of a Seminary education. Father stressed the importance of specialization and professionalism at this time in church history. He said that up until this moment, we have been fighting a guerrilla war but from now on, leaders will need to have an area of specialization and a clear ability to organize and accomplish things in a systematic way. He stated that every church leader should have at least a master's degree but warned that entrance to UTS will be far more difficult in the future. New students must have completed their undergraduate education in the top 30% of their class, they must be recommended by church elders, they must pass an oral exam and must be of the highest moral character. Father stated that Reverend Kwak will draw up the requirements.
The conference ended with a commitment to be victorious in preparing for the 360 million couple blessing which will culminate in 12 separate ceremonies to be held throughout the world on June 13th.