Symposium on Unification Thought
(Last month, The Cornerstone reported the sudden death of Dr. Sang Hun Lee, President of the Ltnification Thought Institute of Korea, during a UT symposium. The following is a report on that symposium by Dr. David Carlson.)
The Ninth International Symposium on Unification Thought,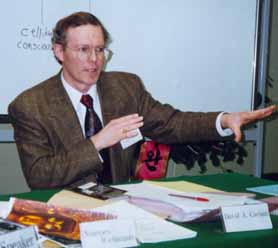 under the theme of "The Creation of a New Culture in the Age of the Global Village," was held in Korea on March 19th to the 22nd. Jointly sponsored by the Unification Thought Institute of Korea and Sun Moon University, scholars from Korea, Japan, Taiwan, Thailand, the United States and the Philippines gathered on the Asan campus of Sun Moon University to present and discuss papers dealing with a wide range of issues and ideas. UTS was represented by President Shimmyo, presenting a paper titled "Humility and the Harmony of Cultures," and by Associate Professor David Carlson, who presented a paper on "The Ethics of Healing and the Healing of Ethics: Reconciling Eastern and Western Perspectives."
Prior to the formal beginning of the Symposium, participants were invited to the Lotte Hotel in Seoul to hear Reverend Moon speak to a packed audience of community, military and government officials.
The symposium opening was graced by the presence of Dr. Sang Hun Lee, President of UTI-Korea, and Dr. Se-Won Yoon, President of Sun Moon University. Dr. Lee delivered the keynote address, "Let Us Create the Renaissance of Godism," in which he encouraged those attending to use their expertise in order "to actualize an ideal world full of peace in which people with various views of value can share together prosperity and mutual respect, transcending national, racial, cultural and religious barriers."
Over the course of the next two days, papers were presented on such topics as "Zero-Sum Game," "New Science and Unification Thought," "Reconstructing Evolution Theory, The School in the Global Village," and "The Modern Significance of the Ethics of the Yeark (Liyue) Community." Classes were in session at SMU during the symposium and numerous students and faculty sat in as observers during the sessions. Throughout the symposium, participants were deeply moved by the warm hospitality of their Korean hosts.