Building Hope in Kenya
Joseph Wakaria graduated from UTS in 1990 and is now Secretary General of the Association for Education and Development, as our church is known in Kenya, his native land.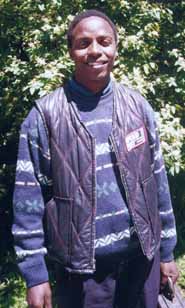 Joseph visited UTS in May as part of a globe-hopping effort to find departments or projects which will be willing to cooperate with the Kenyan members on a number of projects. "The African providence is developing very quickly and many people are joining," explained Joseph, "but we lack a solid financial foundation. We have some businesses, but they are not enough. That's why our National Messiah, Rev. Yim Dow Soon, has pushed us Kenyans to find our own solution," he said.
Joseph is excited about the various projects that have been initiated in Kenya. "We want to develop authentic, tangible, lasting projects which are good and beneficial in themselves," he says. He is particularly enthusiastic about a training center which is currently under construction on church-owned property. It will offer a multi-disciplinary education featuring vocational skills such as carpentry, masonry and metalwork. The educational curriculum will be directed toward family life and values. The center will be named the Sasamoto Training Center after a Unification Church missionary who was martyred in Tanzania.
For more information on the training center and the other Kenyan projects, you can contact Joseph by e-mail at hsauwcke@arcc.cr.ke or at PO Box 46973, Nairobi, Kenya.