The Heart of God Expressed in Contests
Korean Speech Contest

Noriko Maeda of Japan spoke fluently and passionately on the topic of "The Heart of God and Absolute Faith" to win the Korean Speech Contest on May 29th. Dr. David Carlson, Kazuhiro Tsusaka and Yoshihisa Fujino were the other prize winners. The event was organized by the UTS chaplain, Reverend Taek Yong Oh who also judged the contest along with Mrs. Moon Sook Yoon and Dr. Jaekil Park. President Shimmyo thanked the organizers for preparing an excellent event.
19th Annual Divine Principle Lecture Contest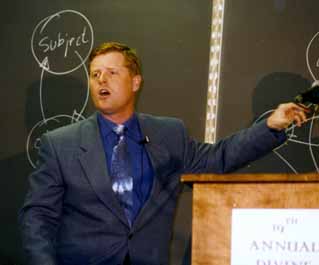 Martin Herbst, a junior, took first place in the Divine Principle Lecture Contest on May 15th. Speaking on The Purpose of Creation, Martin used his own experience as a father of four children to effectively portray God's expectation of humankind. "Parents always want their children to be better than they are," he said. "I want my children to be smarter than me and more beautiful than me - if that's possible! God too wants humankind to be better and that's why he gave us the three blessings."
Rollain Muanda placed second with Prince Tambi in third. While presenting the prizes and trophy, President Shimmyo spoke of the importance of mastering the ability to effectively present Divine Principle to the world.