"Present in Spirit if not in Body"
The Passing of
Dr. Henry Thompson

Dr. Henry O. Thompson, UTS Professor Emeritus of Biblical Studies and Ministry, passed away at his home on Thursday, April 24, after bravely battling cancer for the past 15 months. Dr. Thompson retired from UTS in the Spring of 1996 following the discovery of his illness and was made Professor Emeritus the following June. On April 5, less than three weeks before he passed away, Dr. and Mrs. Thompson received the pre-Blessing in what Mrs. Thompson described as "a memorable and timely event." At a memorial service held on April 27, his son Howard described Dr. Thompson as "a scholar, United Methodist Minister, preacher, archaeologist, husband, father and grandfather" in his testimony to his father's full and fruitful life.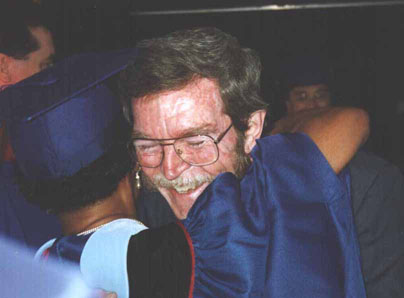 Dr. Thompson was born October 23, 1931 in Northwood, Iowa and attended Iowa State University. Though initially planning to be a bacteriologist, he received a call to ministry in his last two years of college. He attended Drew Theological Seminary from 1955 to 1958 and graduated with the Henry Lamden prize in homiletics. While in seminary, he served United Methodist churches in Centerville and Mount Zion, New Jersey and, following seminary, was the pastor of Pallisades United Methodist Church in Jersey City. Deciding to study for a doctorate, he received his Ph.D. from Drew in Old Testament in 1964 and his dissertation, Mekel and the God at Bethshan, was published by Brill.
Dr. Thompson taught at Colgate Rochester Divinity School, Syracuse University and New York Theological Seminary. He served on Drew's archaeological expedition to Schechem in the 1960's and also worked at the American Center for Oriental Research for two years in Amman, Jordan. When he returned to the United States, he pastored churches in Bayonne and Fairfield. He obtained Masters degrees in Education and in Psychology from Jersey City State College and then taught at UTS until his retirement last year.
Dr. Thompson married Joyce Beebe, his second wife, in June 1980 and they worked together as professors at the University of Pennsylvania School of Nursing. He served as the President of the Alumni Association and also as a trustee at Drew University. Last year, he received the Distinguished Service Award from the Drew Theological Seminary Alumni Association.
Dr. Thompson published over 200 articles and authored more than 50 books including Hidden and Revealed, Biblical Archaeology, Ethics in Nursing (with Joyce Beebe Thompson) and Bioethical Decision Making (also with Joyce Beebe Thompson). He was working on annotated bibliographies prior to his death. He completed annotated bibliographies of all the minor prophets and of his favorite prophet, Jeremiah, and recently completed editing Professor John Patterson's notes in a book on Jeremiah.

The Pre-Blessing
Dr. Thompson lived for more than a year after his illness was diagnosed and he used that time to personally convey his love and gratitude to friends throughout the world. During that time, he and his wife also decided that they would like to be Blessed and, on April 5 of this year, at their home in Pennsylvania, they received the pre-Blessing with President and Mrs. Shimmyo officiating. Dr. Thompson was presented with a plaque expressing gratitude to a great "Unification Optimist," a title which he proudly wore on his lapel for several years. He read the plaque through tear-filled eyes and when Dr. Shimmyo thanked him for fulfilling the role of Unification prophet by "challenging us to live up to True Parents' expectation," his passionate response recalled the fire of Jeremiah himself. Reverend Tom Bowers reports that Dr. Thompson was "radiant and happy and spoke with great energy and feeling" on a portentous day which preceded his passing by less than three weeks.

Memorial Service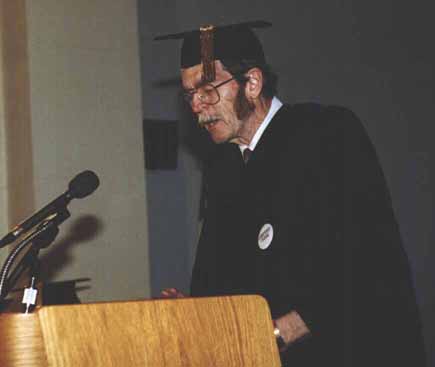 As part of the preparation for the memorial service held at Morrow Memorial United Methodist Church, Maplewood, New Jersey on April 27, Reverend Gretchen Fisher asked the Thompson family what would make the service special for them and for "Hank." The program they agreed on called for "lots of scripture, lots of loud hymns and lots of corny jokes." It was a recipe that worked as well for the service itself as it had for the man whose life it celebrated.
The congregation gathered and departed to the tune of "When the Saints Go Marching In" and hymns such as "How Great Thou Art" and "Many Gifts One Spirit" kept things lively throughout, just as "Hank" requested. An old friend, Rev. Bill Adams, recalled with humor Dr. Thompson's "pathological fascination with details which bored me to tears" and how, as a philosopher dealing in the broad strokes of life, he came to value his friend's attention to detail. He also reported that he had once made fun of Dr. Thompson's "stinginess" by sending him a letter in a used envelope and that in the ensuing conversation, he came to learn that his friend was thrifty only so that he could give more generously to favorite causes such as Drew University.
More than one speaker testified to Dr. Thompson's love of people and his deep interest in them. Each card and letter was carefully stored and his house was adorned with photographs of friends and former students throughout the world. One of those students, Matthew Cohn (UTS '92) wrote a letter which was shared with the congregation by Reverend John Painter. Matthew wrote that he counted it "a beautiful honor to know you and to love you" and he assured Dr. Thompson that "the library in Heaven is even better stocked than the ones at Harvard and Princeton."
Other former students also sent messages to UTS in the days following Dr. Thompson's passing. Michael Kiely (Class of '95) wrote of the all-too-rare occasions when Dr. Thompson gave a sermon at morning service:
"Standing sometimes as a Unificationist at the feet of True Parents whom he loved and respected deeply, sometimes as a fierce critic of Unificationists who did not live by their own principles, his clarion call in those special moments at the pulpit was for us to be better Unificationists. If not, we should not even call ourselves Unificationists at all because our cherished Kingdom of Heaven would certainly elude us on our present path. His words penetrated our hearts with the accuracy of a guided missile because he knew our weakness and our potential well. He pursued both of them relentlessly in those few moments until both were ablaze from his intensity. Finally, when the echo of his last sonorous words had faded away, it seemed that even the organ hesitated to break the ensuing silence. When we dared to breathe again, we all sensed, as if with one mind, that we had been led to drink deeply at some well of new life and were much the richer for it.
Dr. Thompson was a prophet to Unificationists in that he took seriously his mission to help us grow as individuals and as a movement. He admonished us, laughed with us, flunked us, commiserated with and guided us, told stories and inspired us, and listened to and responded to our ideas. With a privileged few he shared about his love for his wife and family and about their activities, and he explored the Divine Principle and the meaning of the Blessing. It is, indeed, joyous news to hear that he and his wife, Joyce Thompson, participated in a pre-blessing ceremony before his death."
Like many others, Michael referred to Dr. Thompson's humor: "Possessed of a Shakespearean sense of balance between the intensely serious and the humorous, Dr. Thompson punctuated his presentations with wry wit. "Present in body but not in spirit?" he would ask a musing student lost in thought–and to the lecture as well–in order to bring him back to the present. As one of his many handouts, he might pass out a copy of a newspaper comic strip that poked fun at the foibles of some religious figure. In one memorable strip posted on his office door, a portly parishioner asked her parson after Sunday service, 'Have you ever considered publishing your sermons?' 'Why no, Mrs. Smith, I have not!' he replied blushing and smiling, obviously pleased at the implied suggestion. 'Good!' she replied. The final frame was a classic caricature of human dismay."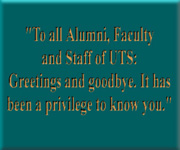 Gunnard Johnson (Class of '79), now serving as a national messiah in Lithuania, remembers the days when Dr. Thompson first came to UTS. "Dr. Hank Thompson is a man of great courage, faith, and integrity. For him to accept a position at and make a commitment to the Unification Theological Seminary knowing that it would likely close the door of public opinion on him was, and is still, a tremendous offering to America and the world. I think he will be long remembered for that.
As a new student there in 1977, I'll never forget meeting him for the first time. That infectious–almost impish–smile on his face said that he was someone who could make up his own mind, and enjoy doing it! He represents what's good about America. He represents the spirit of those hardy folk who came to establish a life that would offer praise and love to God, when others are more concerned about worldly affairs. Hank stands for a person making up their own mind based on not just what we find in a book or classroom, but what we find in our hearts."
Dr. Thompson's heart and motivation as a professor at UTS are best expressed in his own words which, thanks to his love of writing, both scholarly and personal, are voluminous. In a letter to a staff member in January 1996, he conveyed the following:
"I still believe True Parents, Divine Principle and Unificationism have a message for the world. I do not believe God called Father to start one more little in-grown sect. I have and will continue as long as I have breath to urge Unificationists to live the DP, to honor TP with their lives and not just with their mouths. The God-given, Jesus Christ-given mission to unite all Christians and then all religions can never be fulfilled by an in-grown sect. You must put your arms around the world and out-love everyone. Otherwise, you will become just another denomination, a self-perpetuating organization with no real reason to exist. Please don't let that happen to the UC."
Also in January 1996, he also wrote a farewell message which was printed in The Cornerstone in February.
"To all Alumni, Faculty and Staff of UTS: greetings and goodbye. It has been a privilege to know you. Thank you for all that you have done for God, True Parents and the Kingdom. I wish you all the best in the fulfillment of your mission. I dream of the day when "Moonie" will be synonymous with love and justice, when little children from Russia Rwanda, Alaska to Australia, will hear "Moonie" and lift their arms to be loved and hugged, when the rulers of this world face trouble, they will call for the Moonies whose love and justice will stop violence and restore peace. I may not live to see that day, but I can still dream. God bless you all."