Satoko Matoyama
Satoko Matoyama came to UTS in 1995. She would have been here in 1993 if her parents had not kidnapped her and held her for two months in an attempted "deprogramming" during which she was subjected to the verbal attacks of Christian ministers and others who tried to break her faith in this "outrageous cult." It would be another two years before she would be able to fulfill her ambition to continue her graduate education at UTS.
Satoko san joined the Unification Church in 1989, a few months after her conversion to Islam. In her first year at Keio University, she was influenced by the good and humble character of a Moslem colleague and eventually became a Moslem. Before this she was an atheist and has this to say about her conversion. "Initially I wanted to study philosophy. I thought of religion as something for the weak. But his character made me see the good side of religion and I became convinced of the existence of God. Subsequently, I changed from studying philosophy to Islamic History."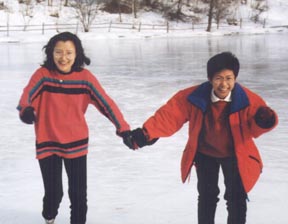 Her spiritual father Mr. Yasuhiro Ishii, a UTS graduate, was then attending the same university. He had known her before the Moslem colleague but because of the negative rumors spread against the UC as a brainwashing cult, he was careful in revealing the DP content to Satoko san. Fatefully, her conversion to Islam became the bedrock on which she could receive the DP.
In her school, CARP was disdained as a brainwashing club by other secular clubs, including the fencing club to which she belonged. One day she was sent by her seniors as a spy to find out about the dubious activities of CARP. In fact, she was surprised by the excellent spiritual atmosphere at the video center but she pressed on with her mission as a spy. She loved approaching religious issues in an intellectual way and she met with the CARP leader with the intention of using her abilities as a debater. But this time, the lady spy reports that she sat spellbound as the CARP leader explained the logical truth of Divine Principle. She also noted the CARP leader's humble clothing which contrasted with his big gold ring. When she heard the explanation of the Blessing, she was impressed but also a little uncomfortable about the idea of a matching carried out by Reverend Moon. Nevertheless, she accepted the explanation. She couldn't instantly believe in Reverend Moon's messiahship "but strangely enough," she says, "I never doubted."
With a different spirit, she returned to the fencing club but the report she gave was not what they expected and she even found herself witnessing to them. She became actively involved in CARP and found herself changing. "It was through fundraising, acting almost like a wretched beggar, that I could begin to overcome pride and egoism," she says.
Satoko san's experience with CARP strengthened her ambition to become a diplomat working at the United Nations so that she could "disabuse people of their mistaken notions concerning the Unification Church." She knew she would need a graduate education and when Reverend Moon gave the direction for the 1993 CARP graduates to attend UTS, she saw this as her chance. It was then that her parents intervened and Satoko san's faith was tested. Eventually, her parents gave up and she was able to rejoin CARP, this time at Tokyo University. Meanwhile, her spiritual father was studying at UTS and with his assistance, she too was able to enroll here in 1995.
The multinational, multiracial UTS community is not entirely new for her as she spent part of her childhood in Africa. When she was three, her family moved to Zambia where her father was a senior officer in a copper mine. During her six years there, Satoko san attended school with children of all ages and credits this experience for her understanding and appreciation of people of other cultures.
She says that she loves it here at the Seminary. "This is a precious place because elders and juniors mix so freely and it's a place that offers hope for the co-existence of people of all races with this common goal of achieving True Parents' ideal." She also has plenty of opportunities to improve her excellent English and to practice and perform on the violin and piano. She still retains her ambition to be a "heavenly diplomat" and believes her UTS experience is bringing her closer to her goal.