National Messiahship: God's Gift
by Ginger Nichols (Class of 1986)
To fellow UTS grads, Namaste (I greet the God within you). As a 1986 Divinity grad, I share with you my deep gratitude to God and True Parents for receiving the gift of National Messiahship in Nepal.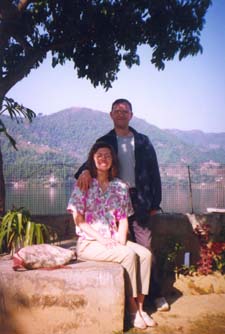 For 10 years, I have struggled to maintain a public mission despite having developed osteoarthritis (affecting the spine) one year after graduating from UTS. Since any prolonged sitting or standing resulted in extreme back, neck and shoulder pain, I never thought my husband and I could be a candidate for national messiahship. Just the thought of an overnight flight to Korea and 40 days of intense physical and spiritual effort (most of which is done sitting down) made me reject any thoughts of fulfilling such a mission.
However, when we were asked to be part of the British contingent to Chung Pyung in August 1996, we felt as if heaven was calling. It was difficult to say no. Even my ancestors were excited. I kept positive by maintaining hope that there was a chance for healing. Unfortunately, after 40 days of extreme physical difficulty, I left Korea without any apparent physical changes to my back pain.
Then we received heaven's destiny - Nepal! It was a bit of a shock not knowing how difficult living conditions might be (with my limitations). Now, almost one year later, thanks to my husband's faith and enthusiasm, we have begun to give rebirth to the only Hindu Kingdom in the world, our beloved country of Nepal.
Despite having very limited experience as a church leader, my husband soon took over the national leadership from one of our Japanese missionary sisters who courageously had tried to carry the responsibility on her shoulders in the absence of the Korean and Japanese National Messiahs. Our initial efforts included re-educating and healing divisions within the young Nepalese home membership. At the same time, there were conferences in Washington DC for which we tried to find high level Nepalese participants while we also researched new business possibilities, sought suitable land for a new headquarters, arranged the translation of DP into Nepalese and tried to register the Family Federation!
As time passed quickly and we were allowed only a five-month visa, we prayed for long-term solutions. Our prayers were soon answered when a blessed couple invited us to co-found an extension of their previously established primary through secondary school, Holy Vision. MR. Gajural, a Nepali Hindu, wanted to establish a model Unification high school that would not only help us solve our visa and financial problems but would also raise up future leaders of Nepal.
Next January, I will begin teaching English as well as being Vice Principal of the school. My husband will help as school counselor but will focus more on leading the FFWPU. Before we left Nepal in June, about 200 couples had received the Blessing, including many professionals. We regretted having to leave but our members were on fire. When we left, we felt as though we were leaving our family. Nepal may be an undeveloped country where cows roam the city streets, feeding among the littered garbage, where living conditions can be uncomfortable at times but we don't have the problems of homosexuality, divorce and crime as in the West. The Nepali heart is very pure and innocent, the beauty of the Himalayas is indescribable and the rugged mountain life has shaped many a Nepali character with a peaceful endurance.
We're still hoping to conceive despite my health limitations. An offering of a blessed child would bring a grateful joy and comfort to our hearts but if this doesn't happen, there are many orphaned children waiting for loving parents.
All of this began with our 40-day seminar in Chung Pyung. Was it worth it? Absolutely. I've always felt indebted to True Parents for my Seminary experience and now I can say with confidence that I will return to God and True Parents what they gave to me. My husband and I promise to dedicate our lives and two generations to restore and develop the Kingdom of Nepal with our tears, sweat and blood.
* Our school in Nepal is urgently looking for short or long term British or American teachers of English who have at least a B.A. or B.Sc. in any subject. Salary provided. Contact John and Ginger Nicholls, Cleeve House, Seend, Melksham, Wiltshire SN12 6PG, England.