Where Can God Find True Love?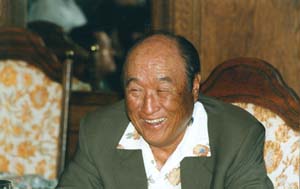 On September 15, Father paid a brief visit to UTS in the middle of a busy day which began with a visit to the University of Bridgeport in the morning and which would end with a flight to Brazil in the evening. He was accompanied by several church leaders including Reverend Kwak, Mr. Joo, Reverend Joong Hyun Park and Mr. Peter Kim. Following lunch, members of the Seminary community were invited to join the Founder in his dining room where he then spoke for about an hour with Mr. Peter Kim translating. The following excerpts are taken from unofficial notes.
"True love is where people offer rather than receive. It is the highest level of mind. Life, lineage and personality are all received through true love. When you touch true love, is it hot or cold? It is hot. When true love is generated in you, it causes heat.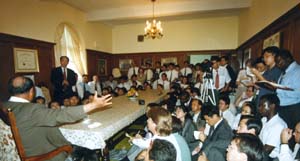 Where can God find true love? Only through a partner. God is omnipotent but cannot find true love without a partner. God and humankind become one through the sexual organs because they are the origin of life and lineage. Where there is no love there is no life. Life is where love is in a balanced relationship of front and back; right and left; up and down; centripetal and centrifugal forces. When love is perfectly round it is harmonized and will fit anywhere. Humankind is born for true love. Marriage is for true love. Through true love, you can conquer God and possess everything.
Centering on God, all value is equal; man and woman, brother and sister, parent and child. God is the center of all of these relationships and when you too are at the center of all these relationships, then the whole universe will embrace you."President Shimmyo later reported that Father again indicated a strong commitment to UTS during his visit and took immediate steps to increase the student enrollment.