| | |
| --- | --- |
| | Sun Myung Moon's Speeches from 2005 |
The Way to Peace through the Holy Blessing Ceremony
Sun Myung Moon
September 12, 2005
Peace Message
Expert from God's Ideal Family -- the Model for World Peace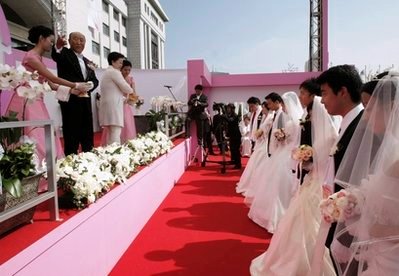 Our bondage to the lineage of Satan has caused so much suffering throughout history. Let us now boldly step forth to sever it and be grafted onto the root of the lineage of the True Parents. Why should we foolishly continue to live and die as wild olive trees? A wild olive tree, even if it lives a thousand years, will only continue producing the seeds of more wild olive trees. Where can we find the path to escape this vicious cycle? It is through the Holy Blessing.
The Holy Blessing Ceremony offers the grace of being grafted onto the true olive tree. It was inaugurated through the True Parents, who bring God's true lineage to humankind. Once you change your lineage to God's lineage, your offspring will belong to God's lineage naturally. The Holy Blessing is received in three stages: resurrection, rebirth and eternal life. Once you receive the True Parents' Holy Blessing, you can give birth to pure, sinless offspring and build an ideal family.
The best way to receive the Holy Blessing is with someone from another race, nationality or religion. I call this an "exchange marriage." This contributes to the enormous task of transcending the barriers of race, culture, ethnicity and religion and creating one family of humankind. In God's sight, skin color makes no difference. God does not stand behind the barriers of religion and culture. They are nothing more than the Devil's tricks. He has used them to rule over humanity as a false parent for tens of thousands of years.
Imagine two enemy families who have cursed each other throughout their lives, people who would never dream of living together. What would happen if these families joined together through an exchange Holy Marriage Blessing? Would the parents of two such families curse their son and daughter who became husband and wife, loved each other and built a happy home? If their son were to love this beautiful daughter of a hated enemy, and she were to become their daughter-in-law and give birth to Heaven's grandchildren as pure and clear as crystal, the grandparents would smile with pleasure. In time the lineages once soaked with enmity would be transformed.
What method other than exchange marriage will empower Whites and Blacks, Jews and Muslims, Orientals and Westerners, and people of all races to live as one human family? The ideal family is the model for living together in peace. The ideal family is the nest where we live and learn to become one. There we have the foundation of love and respect between parents and children, shared trust and love between husband and wife, and mutual support among siblings. For this fundamental reason, you should receive the Holy Marriage Blessing from the True Parents and establish Heaven's tradition of ideal families.